Mac Allister Petrol Mower
B&Q are well known for their quality products and power tools. From drills to rubbish bins, they ensure that each individual product is the best that it can be. So you can be assured that the Mac Allister Petrol Mower lives up to the same standard.
This product may be unavailable,

Our recommended alternative to this product is Flymo Speedi-Mo 360C Electric Wheeled Lawn Mower, 1500 W
What Are The Benefits Of A Petrol Mower?
The main benefit of a petrol lawn mower is their ability to move around more freely as they are not attached to a power outlet by a cord, unlike electric mowers. This both benefits people who have a big lawn and people who do not have a power supply close to their garden. The lack of cable also means that you will not be tripping over yourself as you mow stopping the risk of you cutting through the cable or it being pulled out of its socket.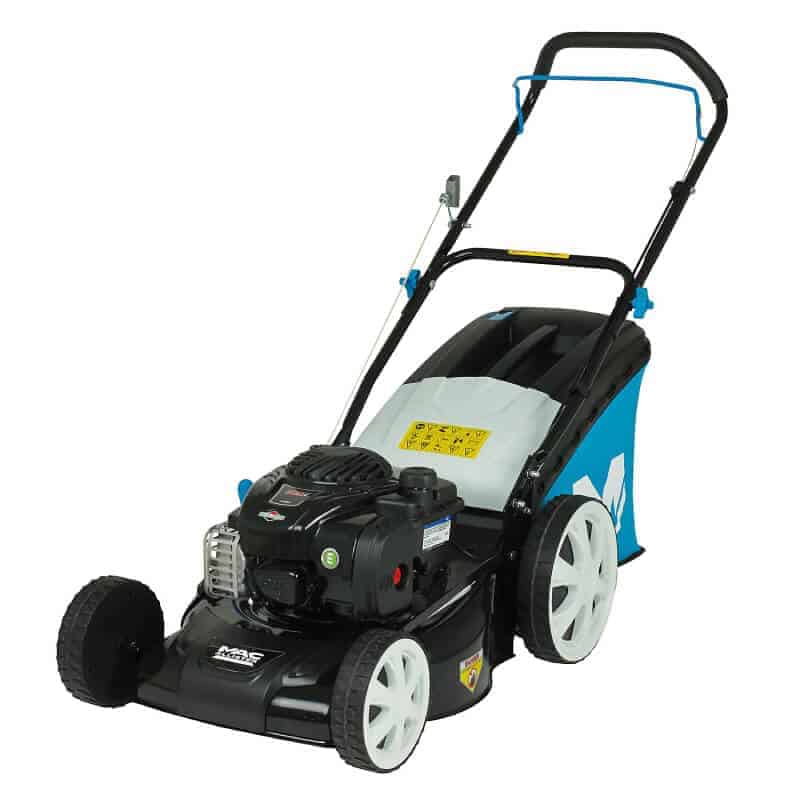 What Are The Different Capacities Of This Product?
With a fuel tank capacity of 0.8 litres, you can be sure that your petrol powered lawn mower will last a long time and will not need to be refilled every two seconds. This may even save you money in the long term as you are not having to waste electricity keeping you mower plugged in as you cut. Instead, you are only using the petrol you need to get the job done. Although it would be advised to keep a filled petrol can on hand if you do tend to cut your grass regularly just in case you do run out halfway through a grass cutting session. No one wants to have a half mowed lawn.
As for the collection capacity, your mower is able to store 60 litres of grass cuttings before you need to empty it. This is an exceptional amount and will save you from having to stop your cutting every few minutes, ideal for when you are cutting your lawn for the first time in a year.
Is This Mower Easy To Use?
For some buyers, this will be the first petrol fuelled lawn mower that they buy, but do not let the power difference put you off buying this affordable yet reliable product. If anything, this mower is easier to use than electric lawn mowers due to the quick and easy start up. No longer will you have to wait around waiting for your mower to warm up or have to rev its motor to get it to start properly. With this Mac Allister mower, you get a guaranteed start on the first try.
No matter your age or your mobility ability, everyone wants to have a nicely cut lawn to enjoy on those hot summer days. Regardless of the large collection capacity that has been included, Mac Allister has made sure that this mower remains as lightweight as possible weighing only 27.3 kg so that anyone has the ability to keep their garden as they wish.
You do not need to worry about getting your grass even all the way across your lawn as the self propelled blade ensures that a 4 stroke cycle evenly cuts your grass to the desired height. This saves you the task of having to run the mower back over patches that you have already cut just to make them even which would waste fuel and your energy.
Is This A High Quality Product?
As mentioned previously, Mac Allister is a B&Q own brand and works to ensure that their high quality standard are met with every product, no matter is that product is a hammer or a lawn mower. It is for this reason that this particular lawn mower is constructed using hardened steel which makes the product wear resistant, therefore, increasing its lifetime so you can make the most of your purchase.
How Reliable Is The Engine Used?
B&Q have opted to go with a 140 cc Briggs & Stratton engine to ensure that your lawn mower can perform to the best of its ability. This particular brand has been making well working engines for decades so they know what makes an engine worth the money. While they do supply parts for domestic products, they also create and manufacture engines for commercial products so you can be assured that your engine will not break after the first use as they have experience with making engines that need to last.
Are There Any Accessories Included?
To ensure that you have everything you need to achieve the perfectly mowed lawn, Mac Allister has provided you with a few additional accessories:
1 wrench
1 wrench pole
1 cable clamp
Is This The Right Petrol Lawn Mower For My Needs?
If you are looking for your first petrol lawn mower to purchase then this is the right one for you. Manufactured using not only durable materials but a hard working and reliable engine, this is a purchase that will last you a life time. With no cord to break or extensive internal wiring to wear down, as long as you have some petrol on hand you can mow your lawn whenever you wish with ease.
This product may be unavailable,
Our recommended alternative to this product is Flymo Speedi-Mo 360C Electric Wheeled Lawn Mower, 1500 W
Check our some of our other mower brand reviews;