Product
Top Rated
Most Powerful
Great Value
Top Rated
Product
Most Powerful
Product
Top 3 Robot Lawn Mowers
I'm sure we can all notice how much the world is advancing around us. With constant advances in technology there are always new ways to make our lives easier and simpler, that in fact, I'm beginning to wonder if there will be any work left for us to do at all!
If you groan every time you remember the grass needs cutting, then it may be time to consider a robotic mower. Simply get out the charging station, set up your boundaries and programme your mower accordingly. Yes, it really does do all the hard work for you, with some making their own way back to the docking station once they've done their job or have run out of batteries.
Once you look past the price, there are so many advantages of a Robot mower. The most important one for me is that my lawn is looking more green and luscious than ever, the regular mowing and mulch function provides your lawn with the important nutrients it needs to keep it healthy green ad luscious.
It also gives you way more time to relax! Gardens are for relaxing in no? You can still do a bit of weeding and planting here and there, but the long and arduous task of lawn mowing will be no more!
Robot mowers also run whenever, wherever, so all you have to do is set up your boundary and it is good to go. It will mow the lawn which you're at work, so you can enjoy the lawn when you get home. They are also a lot quieter than a regular lawn mower, so early in the morning, or late at night, you know robot isn't going to bother your neighbours.
Lets take a look at some excellent robot mower choices, so you can take a back seat when it comes to your lawn!
Flymo 1200R Lithium-Ion Robotic Lawn Mower Review – Our Number 1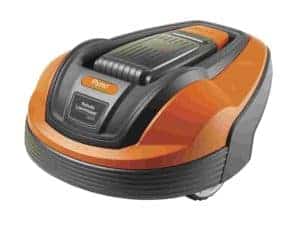 For over 50 years, Flymo (view on Amazon) have been at the heart of many gardens. This Flymo Robotic lawnmower is an excellent lawn mower, initially I was sceptical whether I was going to really benefit from one  and it be worth the money. But I was quickly convinced otherwise.
Theres not much to really say about how well this lawnmower performed for me because all I can comment on is the final result, but basically this mower made an amazing job of my lawn, and still is now! You can just set it to whatever times and days you want, and mows in an irregular pattern so that it stays really green and fresh.
It mulches at the same time as mowing, so no need to dispose of grass clippings, and it means your lawn will be really green and healthy, as mulching returns the nutrients back into the soil.
You can choose the cutting heights to be between 20 and 50mm so whatever suits your preference. And it has a capacity of 30 metres squared per hour which is a really efficient time.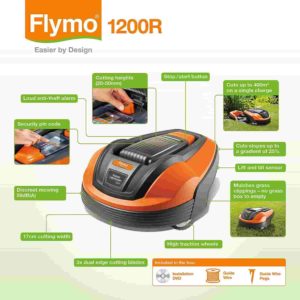 It was so lightweight at only 7.4kg so initial lifting was really easy, not that I would be lifting it again! Once set up, it docks itself to charge and once charged and programmed, it just goes off on its own!
18 v 1.6 Lithium Ion battery – for powerful cutting and a long lasting battery life
Working area of up to 400m2 – so you can relax with even the biggest of lawns to mow and a capacity of 30m2 per hour
Irregular navigation system – to make sure the lawn is evenly cut
Automatic charging system – takes itself to the charging dock when it needs it so you really don't have to do anything!
Highly sensitive collision sensors and sensitive boundary wire – to avoid any obstacles and minimal damage from the mower bumping into things
As far as robots mowers go, this one is not at the most expensive end of the range, it does a pretty excellent job and I loved watching it mesmerisingly go round and round my garden, even on some of the touch patched and inclines it seemed to work amazingly. My lawn is looking really green and gorgeous and the stress has been taken out of gardening for me.
Summary:
Features: Lithium Ion battery – 400ms working area – 30m2 per hour working time – Irregular navigation system – Automatic charging – Sensitive collision sensors – Boundary wire
Price: Affordable

Worx 28v 18cm Landroid M Robotic Lawn Mower Review – Number 2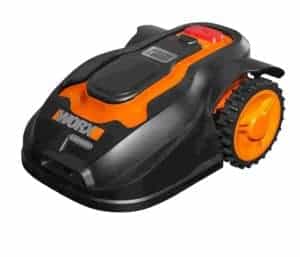 Worx isn't a company I had had much experience with, so I was a little sceptical at first. We all like to use brands we know and trust, but I decided to take a risk with this one.
Once again I was pleasantly surprise by this robotic mower.  The Landroid made excellent work of my lawn and it has all the features you need to ensure stress free lawn mowing.
The great thing about this one is pretty much all you need to do is get it out the box! Its so simple to set and and comes pre-programmed, so once you've installed the boundary wire, you're all set.
The patented AIA technology allowed the mower to navigate narrow sections with ease, because it basically is capable of making its own decisions. The edging mode ensure the mower gets every perimeter of the garden, and the no programming, is really great. It is already set to a super efficient setting so theres really no work to be done here.
The sensor is really sensitive and prevents collisions with furniture, pets or children! It worked really well on slopes as well which is impressive.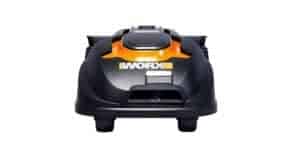 My lawn ended up looking really healthy and green after the first week of use!
Patented AIA technology to allow your mower to navigate tricky little patches and slopes
No programming needed – so you can just get this mower out the box and you're pretty much ready to go
Sensor to prevent collisions – minimal damage and no injury to pets or kids!
Lithium Ion battery – for longer battery life
Overall this mower did an excellent job, a little more expensive and a little heavier than the Flymo, it felt a lot more heavy duty. Again, this robot mower was leaving me little to no work to do! The longest part was setting the boundary wire but apart from that I could really kick back and relax. I found barely any faults with this one at all, apart from that it did get stuck once or twice in a tight spot, but overall a  fantastic purchase.
Summary:
Features: Lithium Ion battery – AIA technology – Edging mode – Sensitive sensor – Pre-programmed
Price:Mid range

Bosch DIY Lawnmower Robot Review – Number 3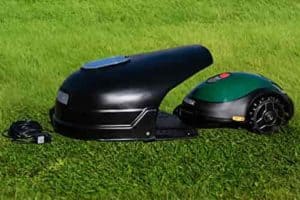 Bosch claims you will never have to worry about mowing your lawn again with the Bosch Indego, a new robotic mower that should give a perfect cut. We were keen to find out how it coped with a lumpy family lawn, so we gave this robotic mower to one of our researchers to try out at home.This lawnmower robot was really at the top of my price range, I was definitely not looking to spend that much but after carefully reading through features and reviews, I thought this one was going to be worth the money.
It is controllable via an app and you really don't need to spend any time at all cutting the lawn, it operated completely by itself once the boundary wire is set in place, and it goes back to charge on its own. It basically has the same features as the other two mowers, but this one just seems to have a little more finesse.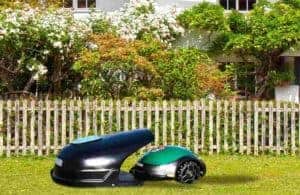 It mows in straight lines, unlike the irregular robot mowers we just looked at, which gives a bit of a nicer finish to the lawn. It is also mulching so returns the nutrients from grass clippings back into the soil.
What I liked about this mower is that over time it learns the shape and size of the lawn, and any obstacles as well, so you don't have to be quite so vigilant with the boundary wire.
It was really quiet, which is nice, so we could happily use the garden while it was working.
Easy to operate – comfortable and takes the work out for you
Controlled by app – so you can set controls from anywhere!
Anti theft settings – to protect you mower from being stolen
Lithium Ion battery – for longer battery life
Overall this was really a fantastic mower to use. It was so simple to set up and really gave me a lovely looking healthy green lawn with minimal effort. I mean whats not to like about that. I love how you could control it through the app, meaning you barely have to lift a finger! The scheduling of mowing times was so easy to organise as well.
Summary:
Features: Easy to operate – App controlled – anti-theft – Lithium Ion battery
Price: High end

Verdict
For me, in terms of performance I'm going to have to say the Bosch is the best. Although it is a lot more expensive than the other two, it just really performed well. I loved how efficient and user-friendly it is, and I think that with proper care, this mower will last me longer, so in terms of value for money its not so bad. If you have never used a robot mower before, any of these three will be just fine for you. But for a true lawn lover, give it the best with the Bosch Indego!