Product
Top Rated
Great Value
Title
BMC Lawn Racer 17" Self Propelled Wolf
Top Rated
Product
Title
BMC Lawn Racer 17" Self Propelled Wolf
Product
Great Value
Product
[insert_php] echo do_shortcode('[product_list cat="Mulching"]' );
[/insert_php]
Best Mulching Lawn Mowers – Top 3 2017-2018
When it comes to cutting the grass, many gardeners prefer to turn their leftover cuttings into mulch. This can take time, however, so isn't it better to have a lawnmower that does this for you? Fortunately, there are plenty of mulching lawn mowers available. Here's a look at the best mulching mowers currently available.
BMC Lawn Racer Review – Our Number 1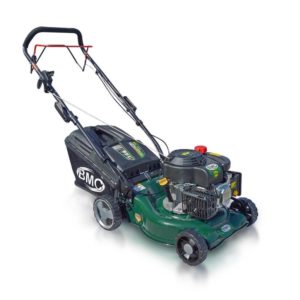 The BMC Lawn Racer (learn more here!) is a versatile mower with plenty of features, with the ability to create mulch being just one of them. Here's what else it has to offer:
At 32kg, this is a heavy unit, but the powerful 4 stoke motor makes this much easier to push and manoeuvre.
With a 42cm cutting width, you can easily cut a large garden with relative ease, thanks to the wide area of coverage.
Likewise, the 40 litre storage tank is a decent size, allowing you to collect plenty of cuttings – and make plenty of mulch – before you need to empty the tank.
The mulch feature itself is also adjustable, as the facilities can be plugged on and off, depending on when you want to use it.
When it comes to cutting, there is an adjustable height setting, ranging from 25 to 70mm.
Even if you're not interested in mulching, there are plenty of options here to make this mower the only one your garden needs. Whether its a large blade or the adjustable settings, there are plenty of ways to get the garden and lawn you want.
Summary
Features:  Mulch Fitting – 40 Litre Storage And Collection – 42cm Cutting Width – 32kg
Pricing: Mid-Range
 [amazon_link asins='B00SBN1A9S,B00GV93K3S,B00KFFJ362,B00HEF4XXO,B01F4SYJZY,B00AC4G83M' template='ProductCarousel' store='thebestmowers-21′ marketplace='UK' link_id='4ae5c9bd-d71f-11e6-bcb7-4fbbd23fecce']
Titan Pro Lawnmower Review – Number 2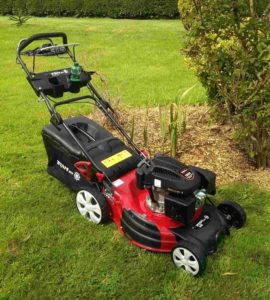 The Titan Pro Lawnmower packs plenty of power and features, with numerous benefits for larger gardens. Here's a look at what this product has to offer:
This unit weighs 45kg, thanks to all of its features, but it has a very powerful motor to counter all of this weight.
With a 53cm cutting width, this is one of the biggest mowers available in this category. Small lawns can be cut in no time at all, while even large expanses are made all the more easier as a result.
This is supported by a 60 litre storage tank, which allows you to collect vast volumes of cuttings before ever needing to open the tank to empty it.
As for the mulch facility, this is a 3 in 1 motor. You can choose to discard cuttings entirely, collect them as they are or start converting them into mulch right away.
There are also 8 adjustable height settings, ranging from 20mm to 75mm, offering plenty of control when it comes to getting the right finish for your lawn.
As you can see, this is a very versatile product. The 60 litre tank will help in the largest of gardens, while the mulching options and adjustable settings will please any gardener, regardless of lawn size.
Summary
Features:  Mulch Fitting – 60 Litre Storage And Collection – 53cm Cutting Width – 45kg
Pricing: High-End
Einhell GC-PM Review – Number 3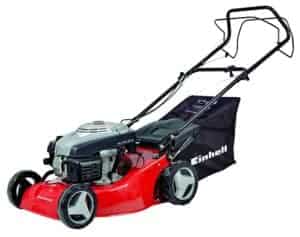 The Einhell GC is another mower designed to offer sheer value and practicality. There are numerous inclusions here that make this device easy and versatile. Here's a closer look at its noteworthy qualities:
At 41 kg, this is surprisingly light considering what it is capable of. Even when fully loaded with cuttings, the motor manages to take on this excess weight with ease, too.
The 51cm cutting width is more than enough for most gardens, helping you to cut through most lawns in quick succession.
The 70 litre storage tank is, quite simply, huge. With this much space, you rarely need to empty the tank at all.
Likewise, this is a 3 in 1 mower, giving you the choice between discarding, storing or mulching your cuttings.
There are also 6 adjustable height settings, ranging from 25 to 85mm. This is more than enough control to please most gardeners.
With a 70 litre tank and a superb 51 cm cutting width, this mower has an emphasis on endurance, but it will please all gardens and lawns just as well. With additional features, such as mulching and different height settings, this gives gardeners plenty of control over their lawn.
Summary
Features:  Mulch Fitting – 70 Litre Storage And Collection – 51cm Cutting Width – 41kg – 91 x 57 x 44cm
Pricing: High-End
Verdict
While there are plenty of products worth your consideration, it's clear that the BMC Lawn Racer has earned its place at the top of this list. Offering pure value for money, the BMC has a big blade, a large storage tank and plenty of features to please even the most professional of gardeners. The ability to create mulch is definitely a strong selling point, but it isn't all the BMC is capable of doing.