Spear & Jackson Rotary Mower Review
During the flourishing months of spring, you are sure to want to start tidying up your lawn so that you can enjoy a stress-free summer in your own backyard. In this review, we will be looking at the Spear and Jackson electric lawnmower so that you can decide if these are the best lawn mowers to tend to your grass this summer.
What Is The Difference Between A Hover Mowers And Rotary Mowers?
A traditional lawnmower is a hover mower. While these mowers may be easier to move around and easier to control because of their lightness, they lack a collection bag. When looking at reviews, you may find that hover mower products score lower due to this lack of bag. People simply find it more inconvenient and more work that they want to have.
However, rotary lawn mowers use big, sturdy wheels to move around which most people find easier to control however they can be heavier. Rotary lawn mowers, specifically electric rotary lawn mowers, are the ones most commonly used by professionals as they are able to produce that classic striped garden that everyone strives to have.
They also include a grass cuttings collection bag which makes their reviews more upbeat and positive as they save time and effort.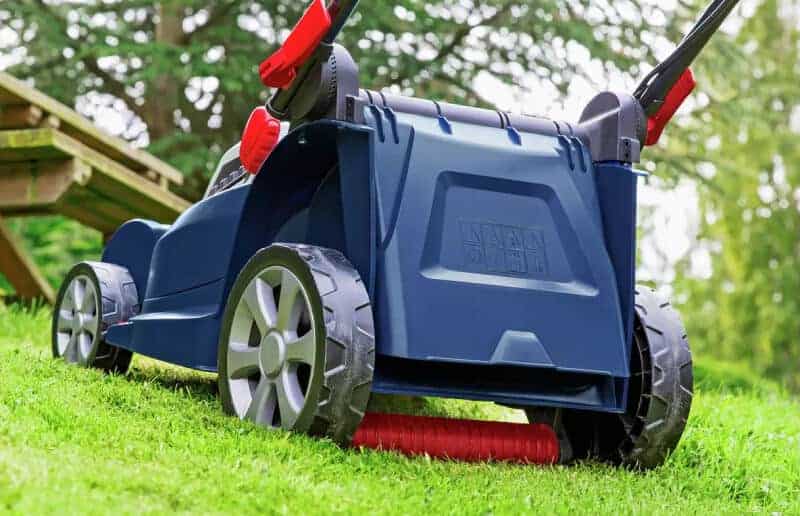 What Type Of Mower Is This?
This is an electric rotary lawnmower. As mentioned previously, some reviews of electric rotary mower products mention how hard they are to move due to the large capacity grass clippings bags and the bulky wheels. Spear and Jackson recognise this problem and have combated it by including a roller at the rear of the mower to ensure an easier movement.
Spear Jackson has also ensured to make their rotary lawnmower as light weight as possible so that while the grass cutting bag is filling, it does not become unbearably heavy to move. This particular rotary lawnmower weighs only 18.5 kg which can be easily controlled and moved by most people, offering the chance of a professional garden to everybody.
At What Height Do These Products Cut Grass At?
Many lawnmowers only cut grass to one even height, like the Mac Allister petrol lawnmower which is reviewed here. However, this Spear and Jackson model has the ability to cut your grass at in several different ways thank thanks to the built in height settings.
With 7 various cutting height settings varying between 2.5 cm and 7 cm, you are sure to find a hight that best suits your lawn. Do not worry if you wish to switch between different heights for whatever reason as Spear Jackson has made sure to make the height selection quick and easy so that you do not have to stop and waste cutting time chancing the central cut's height.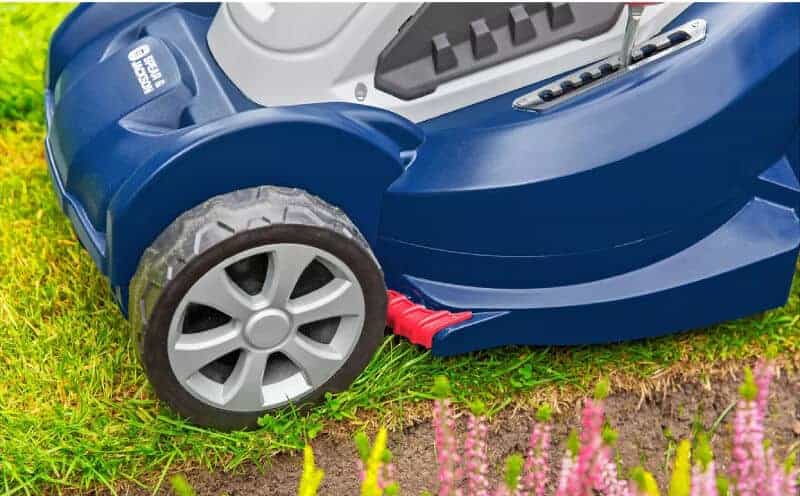 Will I Achieve A Neat Finish With These Mowers?
A unique feature of this lawnmower that makes it one of the best mowers on the market is the inclusion of a rear roller. This rear roller works to produce a professional looking garden with minimal effort from you. It is this extra roller that allows professional gardeners to achieve the striped pattern effect.
As well as this rear roller, Spear Jackson has included an edging comb as to ensure that you can reach the very tips of your garden's edges. This is ideal for anyone who wishes to have a neat, tidy and overall even garden as well as anyone who wishes to enter best garden competitions. With this lawnmower, you are sure to get only positive reviews.
For those of you who have larger gardens and are worried about this Spear Jackson lawnmower being too weak for your needs, there is no need to worry. The cutting width of this mower is a whopping 37 cm, large enough to handle large gardens without you having to spend too much time cutting your grass. Likewise, the large width allows those with smaller gardens to have the best garden they can in a matter of minutes.
What Is The Bag Capacity Of This Lawnmower?
Spear Jackson has opted to use a compact storage technique to maximize the potential of that collection capacity. Because of this, you are able to store 40 litres of grass cuttings in one bag which reduces the number of times you have to stop to empty the grass cuttings. While a collection bag is typical of a rotary lawnmower, this compact technique makes the most of the addition so that you get the most for your money.
What Are The Other Specifications Of This Lawn mower?
Seeing as this is an electrically powered lawn mower, its motor needs to contain enough power to give you the results you need without eating up your electricity to an unaffordable extent. This particular lawn mower has a 1600 watt motor, powerful enough to produce professional results without being too powerful to properly control.
Is There Any Guarantee Included Upon Purchase?
You have no need to worry about your storage bag becoming too full and breaking your lawn mower. Spear Jackson has included smart technology that indicates when your bag is getting full as well as when it has reached maximum capacity. This ensures that you can keep your lawnmower running with no problems and you will not get any nasty surprises due to an overflowing bag.
However, if you so experience an issue with your mower then Spear and Jackson have included a 3 year guarantee with this rotary lawnmower to offer you a peace of mind. Argo also offers a year year 'accidental damage only replacement care' insurance policy that allows those who tend to use their lawnmower regularly to feel protected against any mishaps for a very affordable price.
What Else Comes Included With This Product?
To ensure that your lawnmower can work to the best of its ability, Spear and Jackson have included everything you would need to get the best looking garden possible.
Grass Bag – Wich can be easily attached and detached from the main lawnmower via the quick release locks
12 metre power cable – These are electric lawn mowers so of course you would need some kind of power cable. Seeings as this mower is intended for larger gardens anyway, Spear and Jackson thought it best to include a cable that can stretch as far as you need it to and then some. This length of cable also means that you will not have to attach multiple power extensions so that you can have a safer mowing experience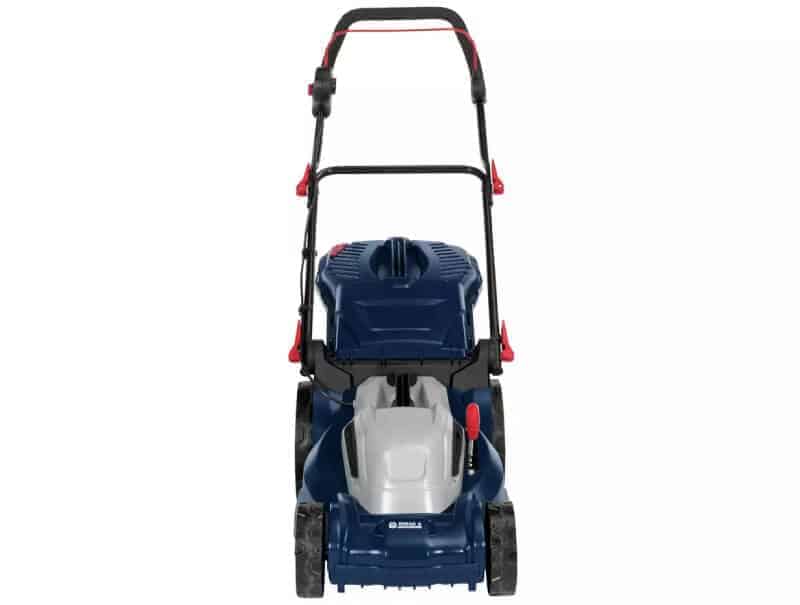 Is This The Right Lawnmower For Me?
If you have a larger garden that you like to kee up kept for either competitive reasons or personal reasons then this is the lawn mower for you. A large lawn can be hard to look after, never mind look neat and tidy. However, due to the additional features such as the extra large cutting width and height adjusters, you can have the garden you want in next to no time.
The electric rotary motor also ensures that you have the power you need to create those striped patterns that many competitive garden participators strive to have.
Spear Jackson also offers a range of cordless lawnmower products which are available at Argos. Just search Spear and Jackson cordless lawn mower Argos and you will find what you are looking for in no time.
If you feel that this particular Spear and Jackson lawnmower does not meet your needs, then feel free to also look at our other lawn mower reviews so that you still find the right collection of mowers in time for summer.
Last Updated on