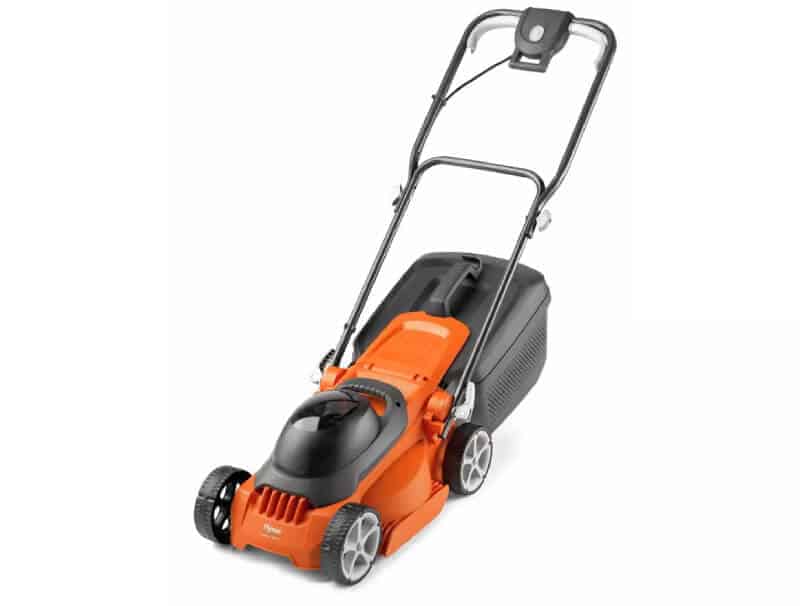 Flymo Easi Glide 300 Cordless Lawn Mower Review
Everyone wants to have a garden that they are proud of, but not everybody gets to for various reasons. However, since the electric lawn mower was invented, more and more people have been able to get into the groove of cutting their grass and tidying their garden.
In this review, we will look at one of if not the best electric, cordless mower currently available - the Flymo easi glide 300.
What Type Of Lawn Mower Is This?
This is a cordless electric lawnmower which means that instead of the motor being powered through a cord and plugged in, instead you have to charge the batteries of the mower so that you have more spacial freedom when cutting your grass. This is ideal for those harder to reach areas of your garden which would otherwise be left uncut if a cord was attached.
The Flymo easi glide 300 electric lawn mower is powered using electricity. While some people may prefer the traditional push lawnmowers that you push along, there are plenty of benefits that this electric lawnmower can provide. For example, you do not have to put as much effort into pushing and therefore powering the machine as the power is already there so all you have to do is push it.
This also means that Flymo was able to add a grass box to their glide 300 as a lot of the weight and pressure of pushing your mower is taken away due to the added power. The collection box that they have included on this model is 30 litres which is a big enough collection capacity to stop you from being interrupted and having to empty your collection box every few minutes while you are mid cut. Do not worry about getting messy when emptying the container as a cleverly designed tongue makes it easier for you to deposit the grass cuttings in the bin.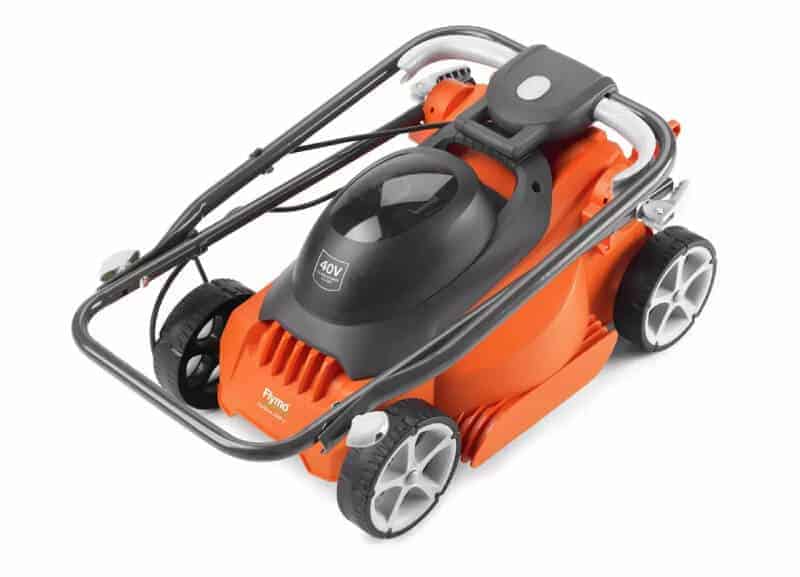 Is This A Hover Lawnmower?
What separates hover mowers from non-hover mowers is the use of wheels to move the machine around. The easi glide 300, while an electric mower, is not a hover lawn mower.
A hover lawnmower allows you to cut your lawn in any direction due to the 360 degree blade and lack of wheels. Where as a non-hover electrical lawnmower allows you to cut your lawn using straight lines which makes your garden appear more professionally looked after.
Of course, you may not partially care about having your garden looking professionally maintained which is why Flymo do offer a range of easi glide 300 electric hover mowers. The easi glide 300 electric hover lawnmower does have a smaller grass collection box compared to the Flymo 300 cordless roller, but it does therefore mean that the easi glide 300 electric hover lawnmower is lighter and easier to use.
It is also worth noting that due to the more advance technology that the easi glide 300 hover mower uses, it is more expensive than a typical roller lawnmower. So if you are looking for a cheap Flymo easi 300 lawnmower then you are best to invest in a non-hover option.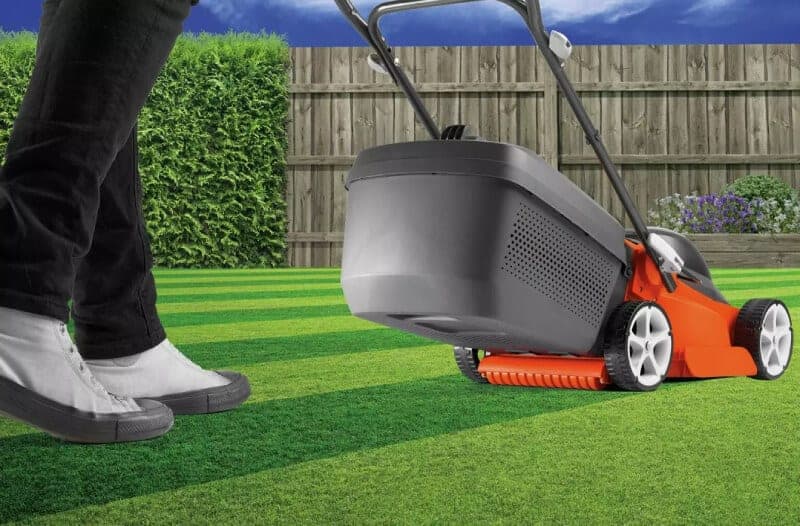 Does The Glide 300 Electric Mower Have Enough Power?
Considering this is a cordless electric lawn mower, the easy glide 300 needs to pack enough power to last long enough to fulfil your needs. That is why Flymo have included a 40 volt battery which is enough power to offer a perfect cut every time your grass needs a trim.
To ensure that you do not run out of power when cutting your grass, make sure to charge your battery until it is full with the supplied charger. When the battery is fully charged to its 2.6 Ah capacity, it will be able to last 3 hours while working at its best ability. This makes it the ideal cordless electric lawn mower for small gardens as you will be able to cut the hole of your garden with a single charge.
Do not worry about any difficulty charging your batteries as the Flymo easi has made its two batteries removable so that you do not have to struggle.
What Are The Blades Like?
The blades included on this Flymo easi electric lawn mower cut at a 30 cm width which is small enough to ensure accurate results with every cut but wide enough to not take forever to cut your garden. The blade itself is made out of a stainless steel metal that is designed to last more than one use, making the Flymo easi glide 300v a reliable investment.
If you do not want your lawn to be cut to one standard length, then you are able to adjust your cutting height to 3 different heights so that you can cut to the one that best suits your garden. These cutting heights range from 2 cm to 6 cm which may not seem like a lot of range, but in practice, this offers a dramatic difference to your garden.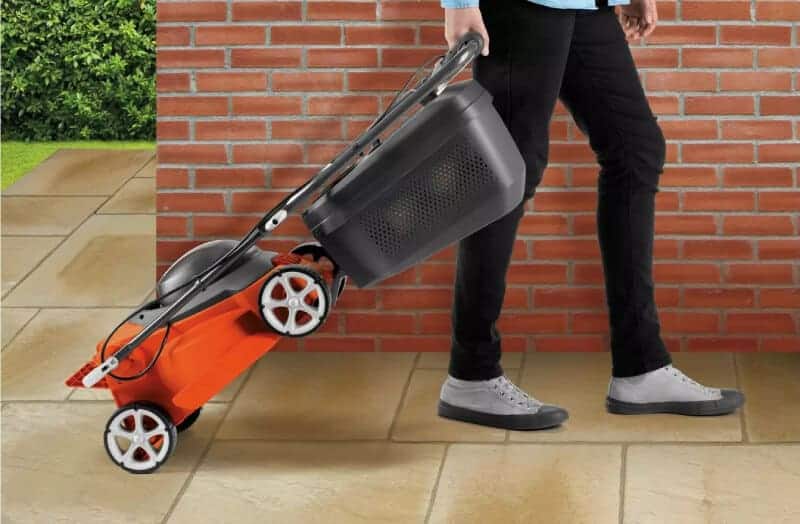 What Convenient Features Are Included?
Not only is this easi glide 300 electric mower very light weight at only 8.8 kg, but it is also very easy to transport due to its pre-designed travel position. This means that all you have to do is lift up the handle that you would hold when cutting your grass and you are ready to roll. Likewise, if you wish to carry your mower, which is easy to do considering the light weight materials used, then a convent but secure handle has been placed on the top of the main body of the lawnmower so that you can carry t with ease.
Not only has Flymo made the transportation of its easy glide convenient but also the storage. Seeing as this is an electric mower designed for smaller gardens, most of the people who will buy this are people will have very little space to store a lawnmower. To combat this problem, Flymo has made sure that this lawnmower is able to be stored vertically as to save floor space and provide more space for you to store other summer garden accessories. This storing can be done in three easy steps:
Fold down the holding handles so that they lay flat
Stand up the whole lawnmower vertically so that it balances on its back wheel and stabiliser
Hang up your grass collection box on the hook provided located no the handle
An extra convenient feature that has been added to this Flymo easi glide 300 is a rear roller. It is this feature that allows a gardener to achieve the stripped cut pattern in their grass that adds an extra level of both sophistication and professionalism to a domestic garden. This rear roller also works as a stabiliser when you are nearing the edge of your lawn so that you do not slip up and cause damage to you, your lawnmower or your garden.
There is no need to worry about you not being able to handle the lawnmower as an ambidextrous handle has been specially designed to allow anyone to use the machine with ease. This feature allows you to manoeuvre around your harder with ease so that you can cut your lawn quicker and with more precision.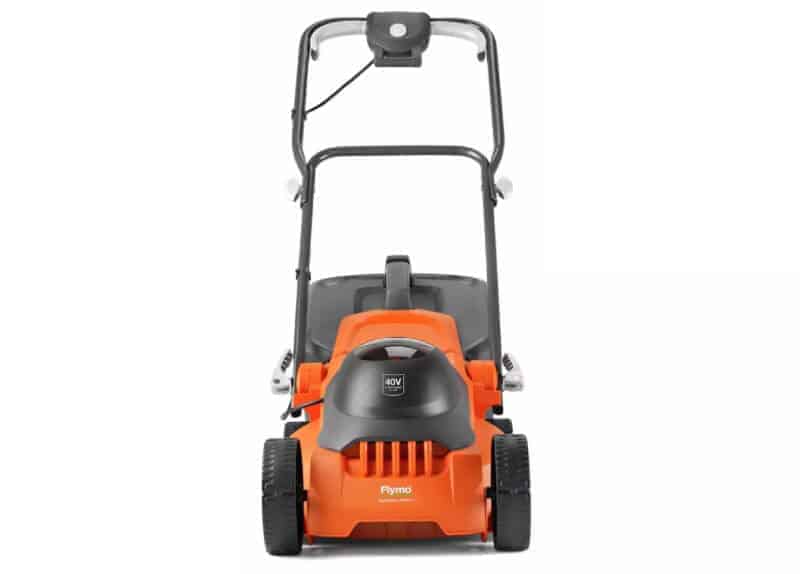 Should I Buy This Lawnmower?
If you want to be able to tend to your garden with both ease and accuracy, then, as we have discussed in this Flymo easi glide 300 review, this is the lawnmower for you. While it may not have the full freedom of the cordless easi glide 300 electric hover mower, it does offer just as much convenience and accessibility.