Product
Top Rated
Great Value
Engine
Briggs and Stratton 344cc
Top Rated
Product
Engine
Briggs and Stratton 344cc
Great Value
Product
[insert_php] echo do_shortcode('[product_list cat="rideon"]' );
[/insert_php]
Reviewing Ride On Lawn Mowers – The Two Best Models Available
For large lawns, there is no better option than to consider a ride on lawn mower – also known as lawn tractors, they are strong, powerful and saves you the strain of walking around the lawn to mow it.
Ride on lawn mowers are exactly that, you sit on them and ride while you mow your lawn. You can get ride on mowers that collect the grass clippings and mowers which will mulch the grass, they have adjustable cut lengths.
In this post we look at two of the best ride on lawn mowers currently offered by Amazon.
Number 1 – Lawn-King RC125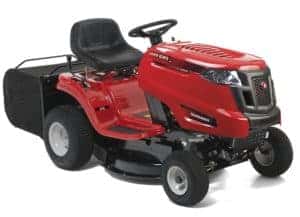 An advancement to The SG60RDE, The RC125 (learn more here!) also made by Lawn King is a more powerful lawn mower with better features;
Powered by Briggs & Stratton single cylinder 344cc start engine which makes it very powerful and very effective
A wide cutting width of 76cm so you can easily cut more grass from your passes
Discharge option available
Semi automatic transmission making it easier to control when riding
5 different cut lengths, select from 30mm – 95mm to fine tune your lawn to the finish you desire
A huge 200 litre grass collection bag so you spend less time emptying the clippings and more time mowing the lawn
Floating deck which increases air flow and promotes powerful grass collection
Twin head lights allow for greater visibility in poorly lit conditions
Rugged all steel construction
A very tight radius of 46cm / 18″ making manoeuvring around flower beds and other objects very easy
Verdict
A very good ride on mower with a powerful engine, adjustable cutting heights, a tight and precise turning ratio allowing for a very close cut and the extremely large collections bag. The RC125 gives you many of the features you would usually get from a garden tractor at a fraction of the cost and size.
The RC125 is small in physical space, powerful enough to cover large gardens and lawns upto 1 acre.
It is also very nice to ride whilst mowing the lawn, it takes the "work" out of work.
Check Amazon customer reviews here.
[amazon_link asins='B00SBN1A9S,B00GV93K3S,B00KFFJ362,B00HEF4XXO,B01F4SYJZY,B00AC4G83M' template='ProductCarousel' store='thebestmowers-21′ marketplace='UK' link_id='4ae5c9bd-d71f-11e6-bcb7-4fbbd23fecce']
Number 2 – Lawn-King SG60RDE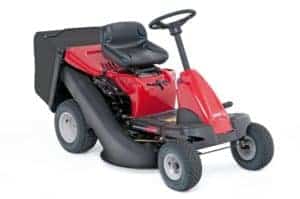 The SG60RDE by Lawn King is a very good lawn mower, with features like optional mulching, discharge or collect a wide cutting width and a large grass clipping collection box. Here are some of the reasons why The SG60RDE is number one;
190cc Single Cylinder Start Engine Powered by Briggs & Stratton to give you optimal power
Much smaller in size than a traditional tractor which makes for easy manoeuvring around flower beds and garden ornaments
Reverse mode when the cutting mechanism is disable which makes it safe
Transmatic transmission provides a gear-less change of speed using the foot pedal which makes it very user friendly and provides a range of 6 speed levels
Getting on and off the mower is very easy with The SG60RDE's multi-step boarding
Ability to mulch as well as discharge or collect the clippings
Step through frame designed to allow access on either side of the lawn mower
A very large 150 litre bag for grass clippings so it is plenty of storage space for your clippings and it sits conveniently on top of your mower when not in use so storage is made easy and less physical space taken up in your shed
A very decently large cutting width of 60cm
A range of different cutting lengths will give you complete flexibility and choice of the overall effect on how your lawn will look
Verdict
A very good second, again Lawn-King bring us a very high quality ride on lawn mower. With the added benefit of mulching as well as discharge and collecting clippings, also small in physical size and powerful cutting a wide area of 60cm with a 150 litre bag, The SG60RDE is our second best ride on mower.
Check Amazon reviews here.
Quick Links