Should I Get a Robot Lawn Mower & How Do They Work?
With all the hustle and bustle of modern-day life, many of us don't have time to push conventional lawn mowers around a lawn, especially if you have a large type of lawn as these challenging lawns require a lot of time. 
This is why robotic lawn mowers are becoming more and more popular than conventional lawn mowers, the main features of a robot lawn mower are a battery self-charge system, auto-navigation system and clipping cutting mechanism, which allows the system of robot lawn mower types to work without manual interference. 
So as you can decide whether or not a robotic lawn mower is right for you and get some more insight into how these robot lawn mowers work, we have put together a small information article for you below.
Main Features Of Robot Lawn Mowers 
Robot lawn mowers might differ from one another in terms of size and brand on the market, but these robot lawn mower companies all make their mowers with three top specs which will discuss below and how they work in the systems of robot lawn mowers. 
The Efficient Route System
You might be wondering how robot lawn mowers manage to automatically find themselves a route around a domestic lawn, and this is because of perimeter wires.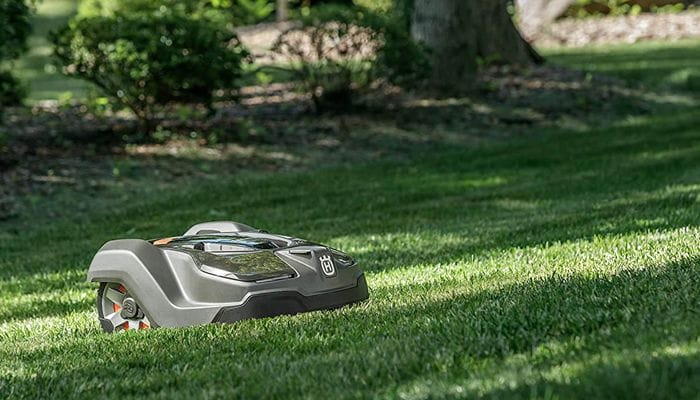 Robot lawn mowers for lawns have to have boundary wire laid out around a garden, this helps the robot lawn mower navigate its way around your lawn without crashing into flower beds or plants and keeps it on the route. 
These boundary wire types also contain sensors that stop the lawnmower from crashing and hurting itself.
The Self-Recharge System
Every robot lawn mowers model will come with its charging station, when the battery capacity of your robot lawn mowers type becomes low, the mower will find its way back to its charging station via the voltage perimeter wire.
After the robot lawn mowers battery fully re-charges it will then continue cutting the blades of grass where it left off, with no interference needed, unlike manual lawn mowers types.
The Cutting System
Robotic machines might have a longer cutting time than your usual mower as unlike manual lawn mowers they cut a volume of grass into much smaller clippings with their blades, this is a mulching type system, as the volume of grass then falls to the soil and fertilises the soil.
Extra Features 
When leaving your robot lawn mowers model alone for loads of time, you might be wondering if they can get stolen, luckily, in robot lawn mowers systems they often have an alarm system when taken out of their set GPS route and also have a pin code to enable the mower to work.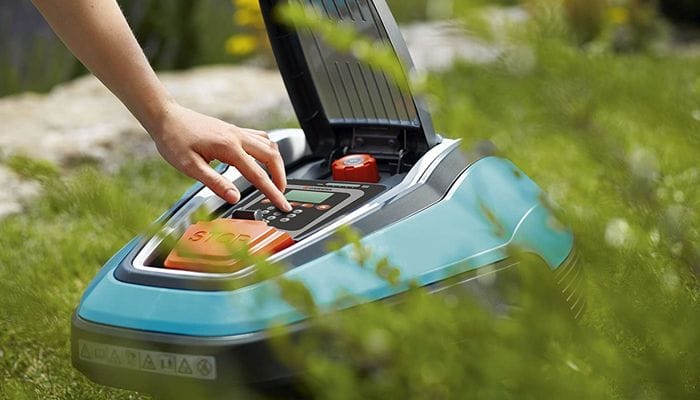 As well as the sensors in the perimeter wire breaks, these mowers often sometimes have collision bump sensors that stop them from hitting objects.
Pros & Cons Of Robotic Lawn Mowers 
Now we know the main features of robot lawn mowers and how they operate, let's get into the advantages and disadvantages of these mowers to see if they are right for you and your lawn maintenance. 
Pros Of Robot Lawn Mowers
One of the first and most obvious advantages to robot lawn mowers have to be that they are self-sufficient and don't need any manual interference during their operating time. These robot lawn mowers are also packed full of great technology which is reliable and gets the job done. 
We also like these lawn mowers as they are super easy to store due to their small size and hard to steal thanks to their anti-theft technologies inside of the system. It is also worth noting that these robot lawn mowers are very quiet in comparison to other types of mowers on the market.
Self-sufficient. 
Full of great technology. 
Easy to store. 
Quiet. 
Anti-theft.
Cons Of Robot Lawn Mowers 
Although robot lawn mowers are great and full of technology, they do have some disadvantages which are worth noting if you are considering purchasing one. 
Robot lawn mowers are pretty small and slow, this results in a longer cutting time for all-sized lawns due to the small cutting blade size. Robot lawns mowers also have a fairly small battery life so will have to return to their charging system more often which means a longer mowing time. 
The last major con of robotic lawnmowers has to be that they are very hard to repair, a lot of technicians have a hard time repairing these as they are not familiar with how the devices work.  
Conclusion - Should I Get a Robot Lawn Mower?
Overall, we recommend getting a robot lawn mower if you are looking for a device that can help you save time while getting on with other chores around the house, do not however get a robot mower if you are looking for a device that can cut your lawn quickly or try and invest in a model with a larger battery capacity. 
Frequently Asked Questions About Robot Lawn Mowers 
How much do robot lawn mowers cost? 
This all comes down to the type of robot mower you buy but they typically cost between £300-£3000, features such as battery life and cutting width will differ between expensive and cheap types.
Do I bury the boundary wire of a robot mower? 
No, you do not have to bury the perimeter wire of your mower in the ground as it will disappear in your garden over time, just ensure it is at least secured with some pegs so as there cannot be a break in the perimeter wire. 
Will robot mowers crash into objects?
Due to the great technology robot mowers have, it is highly unlikely they will crash into objects and animals when in use, they are often fitted with anti-collision sensors and the wire prevents them from overstepping into flower beds. 
Are robot mowers okay to use on steep hills?
Yes, most robot lawn mowers can work fine on steep hills, for very high gradient hills however you might need to look into a robot mower with a little more power so as it will be able to mow the lawn in a reasonable time.
Final Words 
To conclude, robotic lawn mowers work via their three main automatic features; their navigation system, auto-cutting system and self-recharge system. These types of lawn mowers are great as they don't need any manual interference but do have some downfalls as they take a lot of time to mow the lawn. 
Before investing in one of these mowers we recommend you check if your square or rectangular lawn is suitable for a robot mower and if one with a good battery capacity is within your budget.