Why Are Lawnmowers Blades Tempered?
Most of the time you will find that lawnmowers blades are often tempered, this is to improve the overall quality of the mowers blades and help them last longer.
The tempering process of lawnmowers blades results in them being stronger and more suited to tougher terrain, this stops them from snapping easily and giving a dull cut to your lawn. The process of how these blades are tempered depends on the metal, as they require different temperatures when tempering.
So as you can understand more about why lawnmowers blades are tempered and how the tempering process works/benefits the mower, we have put everything you need to know in a short informative guide below.
What Does Tempering Mean?
Before we can get on to how tempering works for mower blades and its advantages, let us explore what tempering means.
Tempering is a process of heating metal to a critical point, this is not only done for the blades of lawnmowers but also for other metal objects such as knives and additional iron-based alloys. Tempering will reduce the hardness of the metal on the blade, making it stronger and less likely to snap.
How Does Tempering On Lawnmower Blades Work?
Tempering mower blades work in the same process above, this ensures the blades can be used on hard terrains without the likelihood of snapping.
Tempered mower blades will also retain their sharpness and not get as blunt so quickly, allowing you to keep the same blades on your mower for many years to come.
What Are The Benefits Of Buying a Tempered Lawnmower Blade?
The obvious advantages of purchasing tempered mower blades are that they last you longer and are more equipped to handling rough terrains.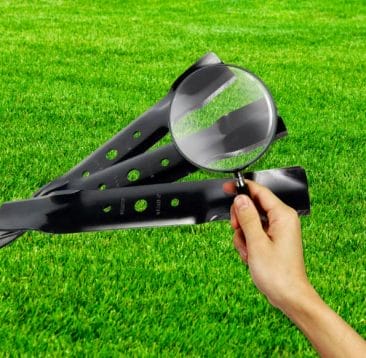 We have listed out some further advantages to tempered mower blades below.
They stay sharp.
Durable.
Strong.
They don't bend easily.
Great hardness.
What's The Difference Between Hardening & Tempering Blades?
Hardening is the process that occurs just before tempering a blade and tends to be done at more variable temperatures, hardening makes blades more brittle, meaning they have more of a tendency to snap than tempered blades.
However, if tempering on the blades of a mower is excessive, it could cause the lawnmower blade to become softer which means they could potentially wear out quicker.
Are There Different Types Of Mowers Blades?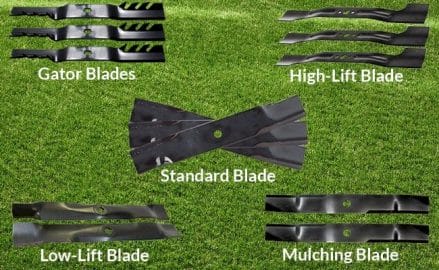 When looking at tempered mower blades, you will often find they come in five different major types, we have listed them out along with their pros and cons below.
Standard Blades
A standard blade is in other words a straight blade and is most commonly used on lawnmowers that rotate horizontally on the machine, these blades have a slight curve to them to allow airflow.
Pros
Suitable for nearly any garden.
Great for cutting thick grass.
Suction effect due to the airflow.
Cons
Known to clog mowers.
Might not be good for thinner grass.
Low-Lift Blades
Low-lift blades have a low suction power and are the best for being used on more sandy soil types, the nature of these blades allows grass to be discharged sideways and they also require a very small amount of power from the mower to function.
Pros
Durable.
Great for sandy terrains.
Don't need a lot of power to function.
Cons
Mulching Blades
Mulching blades are also known as all-purpose blades, these blades allow you to cut your grass into mulch which is essentially very fine pieces of grass so this can be used for fertiliser on your lawn.
Pros
Multi-purpose.
Help fertilise the soil.
Great for medium grass.
Cons
Can clog up the mower.
Not great for taller grass patches.
High-Lift Blades
High-lift blades are pretty much the opposite of low-lift blades and are great for bagging purposes as they create a fan-like suction when cutting. These blades are great for cutting very tall grass and tend to be powerful.
Pros
Good for tall grass.
Great for bagging.
Powerful.
Cons
Uses a lot of power.
Not good for dusty areas.
3 in 1 Blade
These blades are also known as gator blades and come with a medium-lift and mulching feature, they also have serrated edges on each side and are great for mulching not only short but also high grass.
Pros
Pulls grass up.
Great for fertilising.
Gives a precise cut.
Cons
Gets blunt very quickly.
May not perform as well as individual high-lift or low-lift blades.
How Often Should I Sharpen a Mower's Blade When Tempered?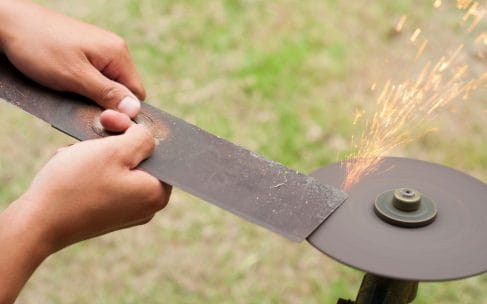 When the blades of a mower are already tempered, you may be wondering how often it will need sharpening. Even if your mowers blades are tempered you need to be sharpening them after every 25 hours of run time to ensure they are cutting your grass efficiently.
In terms of replacement, your blades could last up to 400 hours of use if they are very high-quality tempered ones, we have listed out some signs that will show your mowers blades need to be sharpened below.
The blade is cutting your lawn unevenly.
It's tearing the grass.
The blade is still new and thick.
You have to repeat mow areas of your lawn.
How To Fix a Bent Tempered Mower Blade
Even though tempered mower blades are very durable, it is still possible your mowers blades could get bent if they run into something hard which they shouldn't.
To re-bend a tempered blade back into place again, you will have to use heat like it was originally made, we have put some simple steps below if you would like to give it a try.
Step One - Unplug the spark plug and remove the mowers blade. Then clean it with a 24-grit wheel until you see a shiny surface on the bent part of your blade.
Step Two - Hold one end of your mowers blade with vice and heat the bent area till it turns blue.
Step Three - To straighten the blade use a hammer or put it into a bench vice and bend it.
Step Four - Scuff the whole blade with your grinder again and heat it one more time until it turns blue, then allow the blade to cool down completely.
Step Five - Sharpen both sides of your blade keeping it at an angle of 40-45 degrees then attach it back on to your mower.
Frequently Asked Questions About Tempered Lawnmower Blades
Why are lawnmowers blades tempered not hardened? 
Lawnmower blades are mostly tempered because these make them become a little softer, allowing them to not be as brittle as they are after hardening which would cause them to snap easier.
How much would a set of high-quality mower blades cost?
A set of high-quality blades shouldn't cost you any more than £20-£40 depending on the type of blade that you get.
What type of mower blades wear down the quickest?
Mulching blades tend to wear down the quickest as they make a lot of contact with the ground and have to work harder with clippings to mulch them down.
Last Words
Overall, lawnmowers blades are nearly always tempered, as this heating process will make them last longer, become stronger and less brittle, meaning they won't snap on hard terrain and can be sharpened over the years while maintaining their strength.