Small Gardens – What Trees Should You Plant?
Trees are a really good way to spice up a garden. They tend to be pretty low maintenance, and provide a bit of greenery and brightness all year round. When they're well positioned, then can be a great focal point, or they can be used to block out exposed gardens, or unwanted views.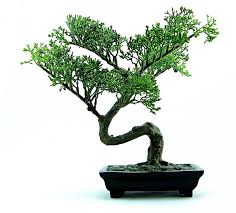 If you're a nature lover, you can choose trees that have berries, to attract birds and provide perches and a place to nest for birds and little animals! Or if you're looking to grow some things at home, for a nice harvest, you could go for apple, pear or cherry trees.
The good thing about young trees is they can be grown in a pot. That way, you can position it wherever you like, and its easy if you fancy changing things up a bit. It also means that when you move house, the hard work you spent growing your little tree wont be wasted, as you can easily take it with you! You can also move it around to protect it during particularly wintery months.

Shrubs are great for small gardens, because they can be crown lifted to give the look of a small tree, while being much shorter.
Trees can also provide a great canvas for decorating your garden further. A personal favourite of mine is weaving fairy lights around the branches. Other nice ideas could be to hang lanterns, bird feeders, spotlights on the ground to uplight foliage, or you could put a bench or table around the base of the tree, for a nice focal point but also to make good use of space.
So, these are a few of my favourite trees that are perfect for a smaller garden!
Snow gum (Eucalyptus pauciflora)
The snow gum bears really pretty snow white little flowers during summer months. Its hardy and will tolerate most soil types. It provides year round interest, with grey, green and cream patchy bark, and dusty green leaves. It is a beautiful little tree, that prefers full sun and can grow to a height of 8 metres.




Loquat (Eriobotrya japonica)
The loquat is ornamental as well as practical. Featuring whirls of tropical glossy foliage and a lovely shape, they can grow up to 8 metres tall. They bear a yellow fruit called a loquat which can be eaten fresh and peeled, or for jellies, jams or preserves.
Magnolia (Magnolia stellata, Magnolia 'Alexandrina)
Magnolias are a really beautiful and grand plant. Some of the species are too big for a small garden, but there are hundreds of species of the magnolia that can be shorter and more suitable for a small garden. The gorgeous flowers on these are just incredible to look at and will brighten anyones garden.
Cercis (Cercis canadensis)
More commonly known as redbuds, Cercis trees are grown for their beautiful spring and summer blossom. With some species having gorgeous bronze and purple foliage. Some varieties can grow 3m tall, while others can grow up to 8m tall
Birch (betula utilis var.jacquemontii)
Birches are a lovely tree that everyone knows and loves. I love how the white stems that really stand out amongst the green. Some can grow up to 30m tall! So make sure you check the variations when you buy.




 Hardy Palms (Brahea armata, Chamaerops humilis)
Hardy palms are a perfect tree to give your garden a tropical feel all year round. They suit loads of different garden styles and they're so brilliantly architectural. Check different species to see which one will suit your garden
Strawberry Tree (Arburtus unedo)
The strawberry tree is actually an evergreen! Not as common as their plant alternative, its a great choice for all year round interest. Providing plump red fruits, and white bell shaped flowers in autumn. It can grow into an attractive multi-stem tree and can also be crown lifted to improve its appearance.
Ornamental Cherries (Prunus yedoensis, Prunus 'Pink Shell')
The spring blossom from an ornamental cherry tree is just so breathtakingly beautiful. They're fantastic for pollinators and perfect trees for a small garden.
Espalier Apple Trees
Now if you don't already know about this amazing planting trick, you're going to be amazed! An espalier apple tree grows a different variety of apple for each arm! Wow! This is perfect for making good use of a small space, and will provide you with lots of different types of apple! The spring blossom is beautiful and fruit supply is reliable.
Topiary Shapes
Topiary trees might not be your conventional "tree" but topiary bay, box and yew, make up for it with their versatility. You can buy ready trained and already shaped,  or if you want to put the work in and save a bit of cash, you can train your own, with a little time and patience.
So, these are my top picks to spice up a small garden. There is a lot a tree can give to a garden so its really worth trying to see if you can get some, if you don't already. They can add colour, vibrance and a bit of pizzazz to any outdoor space. So even if you have a tiny box garden, you can get yourself a small potted tree or shrubs, and if you have a larger space, you can go crazy with tree ideas. Planting a tree yourself can seem like a long task, as of course most trees grow quite slowly, but it will be so worth it in the end. Your hard work will pay off and you can be truly satisfied when you start to see your tree grow.