[product_list cat="Qualcast 1200x Lawn Mowers"]
Qualcast Electric Rotary Lawnmower 1200W
For some people, the lawnmower is their best friend. If you have a lovely smooth running lawnmower, it just makes your entire gardening experience so much easier. I remember asking my son to mow the lawn one day, and he would moan and groan at the thought of using the horrible, rusty old thing.
One day, we got a new lawnmower. I remember it, shiny and green, and even my son looked pretty impressed. That day I let him  have a go at mowing the lawn with it, and let me tell you, I haven't mowed the lawn since. With a good, well kept lawnmower, the usual chore of mowing the lawn can actually be a lot of fun!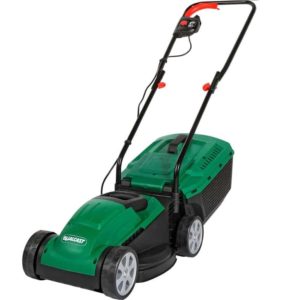 So when I ordered this Qualcast lawnmower (view on Amazon), you can imagine I couldn't wait to try it out. I know lawnmowers aren't exactly known for how they look, but this one was really good looking. Shiny and green, just as I remembered! At an excellent price, I was a little sceptical on the quality, but it didn't feel flimsy at all.
So, how did it do in the ultimate test. Sunday afternoon.
Its pretty easy to put together but I would say that I have a fair amount of experience, make sure you read the manual! The wheels were a little hard to adjust at first but once I got the knack and a little bit of force I managed it without a problem.
I plug it in, and I'm glad to see if has 2 handed starting switch, safety first! It also features a quick stop blade brake. This 1200W mower features a Turbo Drive motor, it feels really powerful and is cutting really nicely as it glides along the lawn. First impressions are pretty good!
The 32cm steel blade provides AirLift grass collection technology for great cutting and collection performance in all conditions. You can really feel how well the blade slices through even the tough patched of my slightly overgrown lawn with ease.
There is hardly anything being thrown out of the lawnmower which means the collection technology is in fact excellent.
The compact design makes it easy to carry and manoeuvre around obstacles. It very light and manoeuvrable and i'm hardly having to push it, meaning easy work for me on a Sunday!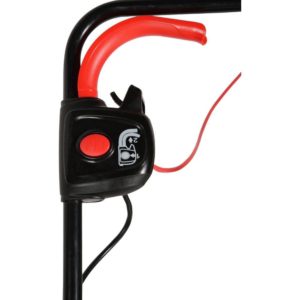 It has three easily adjustable cutting heights. The different cutting heights ranging from 2cm-6cm. So however you like to have your lawn, you can adjust the cutting height to suit you.
The thirty litre grass collection box means that you don't need to constantly empty the box, and when you do its really easily to attach and detach for easy emptying!
Conveniently the handle is height adjustable, which is perfect for me. Being quite tall I often get a backache leaning over a mower made for average height people! So the adjustable handle is great!
The power cable is a comfortable 10 metres and of course there is a safety switch.
1200 Watt electric rotary motor – for the reliable power you need to get great results
32cm metal blade – sharp long blade to easily cut through your lawn, even when its overdue!
3 cutting heights – ranging from 2cm to 6cm so you can adjust it to whatever your needs might be
2 handed starting switch – so you can make sure you're safe when your start! No accidents in this garden!
30 Litre collection box – a spacious collection box to collect all the clippings which is easy to remove and replace
10 metre power cable – Easily low a medium sized garden, and easy to attach an extension lead for bigger gardens!
Dimensions (packaged), Height – 61cm, Width – 38cm, Depth 29cm
Weight – 9 Kilograms
Overall I am really pleased with the performance of this lawnmower. I mean in terms of value for money its excellent. There are plenty of expensive lawn mower models out there, but why pay thousands when you can have this nifty little mower!
It really is so nice and light you don't feel like you're heavy lifting or straining when pushing it. I would say that if you're a really avid green fingered gardener, you may want to spend a little more money and go for something else, as this for me is quite basic, but for most people that's all you need! It cuts nicely, collect tidily, is small and compact and easy to put away.
So for me I can't fault it. I would definitely recommend this to friends and family with anything up to a medium sized garden, as it was excellent value for money and with good cleaning and maintenance i'm sure is going to last me a long time! With the 2 year warranty I also know that if any parts break or if I'm not satisfied, Qualcast will be happy to refund me! So you can't really complain there! All round a great nifty little piece of kit to have in your garden.
Summary:
Features: 1200W electric rotary motor – 32cm metal blade – 3 cutting heights – heights ranging from 2cm-6cm – 2 handed starting switch – lightweight – 30 litre collection box – 10m power cable
Price: Low end