[product_list cat="Qualcast Cylinder Lawn Mower"]
Qualcast Corded Cylinder Lawnmower 400 Watt Review

I love my garden, I love gardening, I love being in the garden, and I love my lawn. Anyone who loves their lawn will know that the only way to keep a gorgeous lawn is with a good lawnmower. Thats why when my lawnmower died the other week, it was very sad day. I wasn't really looking forward to getting a new one, as my trusty old one took a lot of shopping around and research to choose the right one.
With such a variety of choice, and constant advances in the market, its impossible to know what to get. You don't want to spend too much but you also don't want to compromise on quality.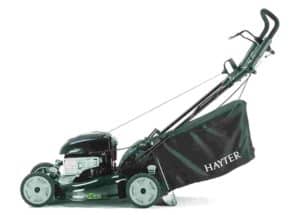 This Qualcast (view on Amazon) corded cylinder lawnmower was a pretty reasonable price. The 400 watt electric motor is nice and powerful, and will glide through the grass easily, even with tough patches.
This lawn mower features 4 precision diamond ground blades for excellent and easy cutting. Who doesn't love that feeling when you finish mowing the lawn and you've got those lovely straight and neat lines. That feeling is just fantastic. The large split rear roller does exactly that, and allows for easy movement and manoeuvrability , while being really compact for easy storage in even the tightest of spaces.
Its pretty light weight at only 12kg so is nice and easy to carry, so you're not exerting yourself too much by pushing this around! Its nice and really easy to carry and won't take up too much space in your shed or garage. It folds down really easily and fully for compact storage.
The 32cm steel blade cuts through the grass really nicely, meaning your lawn will stay nice and green with a clean cut, a blunt blade often means the grass will fray and look dry and grey.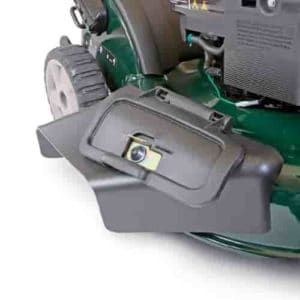 It features 3 cutting heights ranging rom 1.48cm to 4.5 cm, so however you like to have your lawn, you can adjust the settings to suit you. It also means that if your lawn is really over grown, you can first cut it to 6cm, then shorter.
The grass collection box is 45 Litres, which is a pretty big capacity,  meaning you don't have to constantly empty the box. Which can be one of the most tedious parts of lawn mowing, but with a spacious box like this you don't have to go back and forward to the compost bin.
The handle is height adjustable which is great for me, as I am pretty tall and sometimes lawn mowers with a set handle height can give me back pains. The power cable is also 12 metres long, so this will easily do small to medium sized lawns, and an extension lead can easily be attached for larger lawns.
Of course it has a two handed starting switch, which is great because I for sure don't want to have any lawnmower accidents! Safety is key!
Lightweight – weighing in at 12 kilograms so you can easily push this lawnmower across your lawn
400 watt electric cylinder motor – for excellent cutting power
32cm steel blade – to slice through that lawn cleanly
3 adjustable cutting heights – so you can cut the lawn at any height you prefer
45 Litre collection box – spacious so you don't have to constantly empty the collection box
Height adjustable handle – so you can have the handle at whatever height suits you
12 metre power cable – so you can easily mow a small/medium lawn
Rear Roller – for easy manoeuvrability and leaves nice clean lines as you mow
Overall I would say this has been an excellent mower for the price. Its been really good value for money. It has served me really well the few times I've used it and it seems like it's going to last really well! Of course the best way to make sure your mower lasts the longest time possible, you need to take care of it, this means cleaning the mower and sharpening the blade.
Also making sure you don't let your lawn get too overgrown, as this can put a lot of strain on your mower when you use it next. I would definitely recommend this lawn mower to family and friends, especially anyone that is looking for something that isn't too complicated, with no frills.
Although it is really well priced I don't feel that there is a compromise on the quality. This is a really user friendly lawnmower, and it was easy to put together. So what's stopping you! If you're looking for a nice new lawnmower then this could be the one for you!
Summary:
Features: Lightweight – 400 Watt Electric Cylinder – 32 cm steel blade – 3 adjustable cutting heights – Height adjustable handle – 12 Metre power cable – Real roller
Price: Low range