Product
Top Rated
Great Value
Title
BMC Lawn Racer 17" Self Propelled Wolf
Top Rated
Product
Product
Title
BMC Lawn Racer 17" Self Propelled Wolf
Top Petrol Mowers For All Sizes Of Gardens
If you want a truly versatile lawn mower, a petrol option is ideal. Because these models don't require an extension cord, they can be used on any size garden, whether its large, medium or small. They also come with a range of extra features, such as cutting heights, to offer the most versatility.
If you're a keen gardener, or just want to keep your lawn in order, petrol mowers represent a great option, with a wide market readily available. To help you make your choice even easier, here are the 3 best petrol lawn mowers for small, medium and large gardens.
Einhell 3404585 Self Propelled Petrol Lawnmower Review – Our Number 1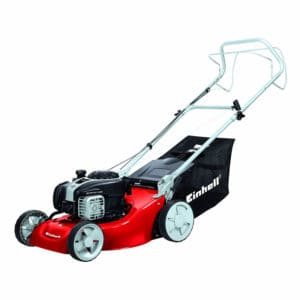 The Einhell lawn mower (learn more here!) is a surprisingly small mower that offers plenty of power and value. It is a highly efficient model that has a number of features that allow gardeners the control and precision requires to truly take care of their lawns. Here are its most unique properties:
With a 125 CC motor, you get more than enough power to cut down your grass with ease.
This is supported by a 46 cm cutting blade spinning at 2800 rpm – that's quite an effective cutting speed and radius.
Size wise, at 78 x 52 x 39 cm, the Einhell is rather small given its cutting space and capabilities.
It does weight 29 kg, but the engine is powerful enough to make this feel light and easy.
With 50 litres of storage, you don't need to stop and start on a regular basis. Even in the largest gardens, you rarely need to stop and empty the storage container.
This lawn mower has 9 cutting heights, with settings ranging from 30 to 80 mm.
In short, it's hard to find any faults with a mower like this. The powerful engine and blade work together to offer a smooth finish, while the storage space and cutting width simply ensure practicality and a great ease of use.
Summary
Features: 2800 RPM – 125 CC Motor – 50 Litre Storage And Collection – 46 CM Cutting Width – 78 x 52 x 39 CM – 29 KG
Pricing: High-End

BMC Lawn Racer 17″ Self Propelled Review – Number 2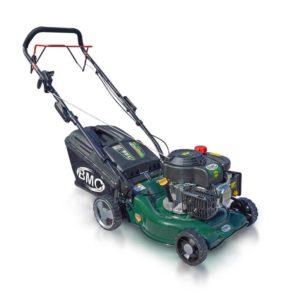 The BMC Lawn Racer is a compact model that is quick and easy to familiarise yourself with. Yet it still offers plenty of useful features that any gardener or home owner will appreciate. Here's a run down of what this model has to offer:
The 4 Stoke Engine offers a quick start and gives this motor plenty of power – it barely requires any effort to push.
With a 40 litre storage compartment, this motor is great for medium and large gardens, as it can collect a large volume of cuttings before it needs to be emptied.
Likewise, with a 42 cm cutting width, you can easily cut down entire areas of lawn with relative quickness.
At 32 kg, it's a heavy mower, but the powerful motor more than compensates for this, as well as the strong, durable wheels on the base.
This mower can be adjusted with 5 cutting heights, ranging from 25 to 70 mm.
All in all, this is a motor that is easy to use and effortless to get to grips with. The adjustable height settings, as well as the wide cutting area, allow you to customise your lawn and get the look and feel that you want out of your garden.
Summary
Features: 4 Stroke Engine – 40 Litre Storage And Collection – 42 CM Cutting Width – 32 KG
Pricing: Mid-Range

Powerplus 410mm 3 in 1 Self Propelled Easy Start Review – Number 3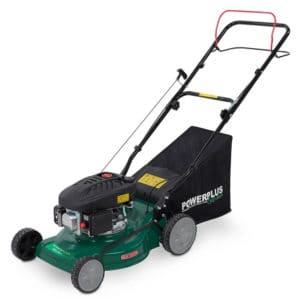 The Powerplus 3 in 1 offers some very interesting features and an ergonomic design that makes the mower simplistic and natural to use. The design has some very noteworthy features, including:
The 4 stroke, 98.55 CC motor offers plenty of power for gardening needs, creating a mower that moves with little effort.
With a 41 cm cutting blade, most gardens can be mowed down in quick succession, thanks to the large area covered.
Likewise, the 50 litre storage tank is a big benefit, allowing you to collect plenty of cuttings before needing to empty the tank.
This is a 3 in 1 mower as, in addition to cutting and collecting, it can also be used to create healthy mulch. If you're an avid gardener, this is a very welcome feature.
It also has 7 different cutting heights, ranging from 30 to 75 mm.
In short, this is a more affordable option that still manages to offer plenty of value for money. It can handle a wide variety of lawns and offers some extra versatility that passionate gardeners will no doubt appreciate greatly.
Summary
Features: 4 Stroke Engine – 98.5 CC Motor – 50 Litre Storage And Collection – 41 CM Cutting Width
Pricing: Mid-Range

Verdict
After looking at all of the options available on today's market, it's clear the top spot on this list should go to Einhell lawn mower. From the powerful engine to the high RPM, everything about this motor is designed to be efficient, yet still offers a fantastic finish on your lawn. This is a great option for anyone looking for reliability, versatility and high quality.