[product_list cat="Best Lightweight Lawn Mowers"]
Top 3 Lightweight Lawn Mowers
Are you thinking of buying a new lawnmower? Its hard to know these days what to go for. There are just so many choices! Between electric, gas, ride on, robot? Who really knows which ones are best, and worth the money.
For me, I'll always go for a lightweight electric mower. I've always had them, and always will. They're always at the cheaper end of the range, and if you take care of them, they won't need constant replacing! They're lightweight and usually smaller and compact so you can easily store them away. I personally have never got on with hover mowers. You can't quite get a straight line, and they never really hover as you would like them to. But I have found some excellent lightweight mowers with wheels, so you can easily push them along the lawn, to mow your lawn with ease.
There are many advantages to lightweight mowers. Firstly, well, they're lightweight. They aren't heavy to lug around and you can easily hang them up to store space efficiently. You don't break a sweat pushing these mowers around, which are three times as light as their petrol competitors.
Although the cable can sometimes be be an issue, you can easily attach an extension lead, or look for a light weight mower that uses a battery. Although these can add weight.
So lets take a look at some of the best lightweight lawnmowers around!
Flymo Easimo Electric Wheeled Lawn Mower Review – Our Number 1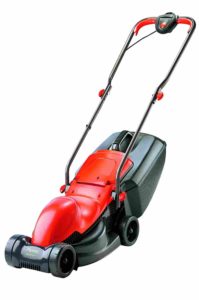 This lawn mower (view on Amazon) was an astonishingly amazing price! There really isn't much cheaper. When I received the lawnmower, it was really easy to assemble, and came with great instructions. Although it weighs only 8.3kg, which is amazingly light, it didn't feel flimsy. I was pretty excited to try it out.
At first look, its a really nice looking little lawn mower, super simple to follow the instructions to set up, and ready to go straight away.
It is ergonomically designed for user friendly use in any garden. It has a lovely comfy handle which is height adjustable, and is really made for straight forward, no fuss lawn mowing.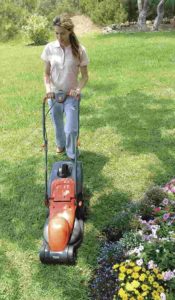 For me one of the main appeals is it flew really nicely over the edges, which can be really pesky to get nice and neat. It also collects and compacts more grass, so that the 29 litre collection box doesn't need to be emptied as frequently.
The 32cm metal blade easily cuts through even the toughest patches of lawns, and the cutting height is adjustable with three settings, between 20-60 mm
As far as value for money, this lawnmower is a great little find. The keys to lawn mower longevity is taking care of it, so, keeping your blade sharp, the deck clean and storing it carefully. This will mean your lawn mower won't need replacing anytime soon.
Ergonomically designed – for super simple and easy use in your garden
29 litre collection box – easily detachable and collects and compacts for less emptying
Super light weight – at only 8.3kg this isn't going to put much strain on your transporting or pushing it around, and is compact and easy to store
32cm metal blade – Easily cuts through tough patches too
Three cutting heights – so you can choose the height you want, to get a nice precise lawn length
10 metre power cable – perfect for small and medium sized gardens
Overall this is fantastic little mower for the money. I was really surprised at how low the price was and that it didn't compromise much at all on quality. I would definitely buy this again and recommend to friends and family.
Summary:
Features: Ergonomically designed – 29 litre collection box – lightweight – 32cm metal blade – 3 cutting heights – 10 meter power cable
Price: Low end, budget
Bosch Rotak 34R Electric Rotary Lawnmower Review – Number 2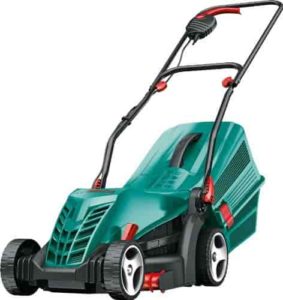 When looking for a quality lawn mower, one of the main starting points is a reputable brand. It's safe to say if you're a keen DIYer, or a house proud appliance user, you know that Bosch has always been up there with the greats.
I recently tried out this Bosch Rotak 34R Rotary Lawnmower. This one comes in a little heavier than the Flymo, but still a mere 11kg. This makes it easier to swing around the garden with speed, but also easy to lift over that pesky step that you always catch your blades on! You know the one I mean!
The 1300 Watt power drive motor is very powerful! It's a little but on the noisy side, but ensures a reliable cut in long or wet grass.
The 34cm cutting diameter is ideal for small to medium sized lawns, and a little more nifty for manoeuvring around flower beds and trees. The unique grass combs ensure that not a blade of grass escapes the mower blade, so you can cut right up to the edge, nice and neatly.
The height adjustment is on a single lever, which is good compared to most other mowers, which have a specific amount of set heights. This way you can choose to the exact millimetre, how tall you want your lawn to be, and alter it depending on the condition of the grass.
It is also nice and compact, with a stackable grass box for easy storage.
1300 Watt Powerdrive motor – ensuring a reliable cut in long or wet grass
34cm cutting diameter – ideal for small gardens, and easy manoeuvrability
Stackable grass collecting box – for compact storage
Unique grass combs – cut right up to and over the edge
Single lever height adjustment – so you can cut your lawn to the precise height you desire
Overall, this lawn mower does a pretty good job. It is very simple and straight forward, no frills. Altogether a reliable and worthwhile mower that gives a sturdy feeling. The wheels ran pretty smoothly without many bumps or rattling. For me the free hand height adjustability is a major bonus. Having done extensive research into the perfect lawn height, I was able to set this myself, where as other mowers are usually fixed. I'm confident that with some lawn mower care, this is going to last me a good few seasons, and I would definitely consider buying it again.
Summary:
Features: 1300 watt Powerdrive motor – 34cm cutting diameter – Spacious grass collection box – Unique grass combs – Single lever height adjustment
Price: Low range
Black and Decker 1200W Edge-Max Lawn Mower Review – Number 3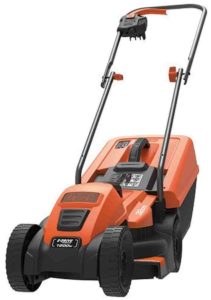 Once again we have a here a lawnmower made by a very well known name in the DIY world and I have to say, it did not disappoint. The Black and Decker made light work of my overgrown and weed ridden garden. After four days of solid rain, my lawn was pretty damp, but it was Sunday, and you know what that means! Lawn mowing day!
I have to say, when choosing a lawn mower, I have always preferred a petrol and the end of the day, but this black and decker has changed my mind. the main fault with the electric power, especially the cheap ones with low power, is their inability to cut through thick, weedy, or wet grassy areas. With lightweight of hovering electric mowers, jamming is the main problem. However this absolute beast of a mower slashed through the grass with ease.
The 35 litre grass collecting box was a pleasure to detach when full, although the feature I was excited about, the viewing window, wasn't much use, as grass was always stuck to it. So it always looked full. Never the less, it was still pretty easy to collect and empty.
The EdgeMax feature is a fantastic idea, the blade spins a lot closer to the inside of the deck. This means that you can get really tight to those tricky areas like borders or flowerpots, eliminating the need for a post strimming session. The low profile nose design also makes it easy to reach areas under garden furniture, bushes and shrubs.
The wheels feel really strong and sturdy, and they handled my bumpy lawn excellently. It also has three cutting heights, so you can choose which height suits you.
Of course, no keen gardener will admit it, but we've all run over our lawnmower cable at least once before, resulting in a loss of power and a stressful and embarrassing trip to B&Q, well worry no more, because the Black and Decker quick release cable system means you can have a stress free mowing experience, without the worry of cable catastrophes.
E-Drive – high torque cutting system for stall free cutting of tall and damp grass
Optimised 35 litre grass collecting box – collects more grass which means less time going back and forwards emptying
Quick release cable storage – to keep the cable tidy
EdgeMax – super close and tidy edge cutting
An all round fantastic mower from the bigger lawn sections to the fiddly corners, an absolute pleasure to work with. I feel that its really excellent value for money and there is not compromise on the quality due to the price being low. I'm sure that with lawn mower care and maintenance this is going to last me a long time, and I'm very glad to have it as my garden companion. I would definitely recommend to friends. No blade is safe from the Black and Decker!
Summary:
Features: E-Drive – Optimised 35 Litre grass collection box – Quick release cable storage – EdgeMax
Price: Low range
Verdict
For my verdict, i'm going to have to hand it to the Black and Decker. In terms of total satisfaction the Black and Decker really performed perfectly for me. It isn't as delicate as the Flymo, being the middle weight between the three mowers, and none of the mowers have especially fancy features, but what did it for me is how excellent the Black and Decker handled edges, and was able to get into all the nooks and crannies that most other mowers can't reach. In terms of value for money I would definitely say that the Black and Decker is the best. I will be recommending this one very highly. Turns out Black and Decker aren't just good for power tools! Choose this lawnmower! This is not a drill!