Product
Top Rated
Great Value
Title
VonHaus 40cm Manual Cylinder Garden Lawn Mower
Einhell BG-HM 40 Hand Lawn Mower
Bosch AHM 38 G Manual Garden Lawn Mower
Top Rated
Product
Title
VonHaus 40cm Manual Cylinder Garden Lawn Mower
Product
Title
Einhell BG-HM 40 Hand Lawn Mower
Great Value
Product
Title
Bosch AHM 38 G Manual Garden Lawn Mower
[insert_php] echo do_shortcode('[product_list cat="Manual"]' );
[/insert_php]
Best Hand Push Manual Lawn Mowers 2017-2018
If you're looking for a way to cut the grass without relying on petrol or energy, as well as a lightweight, affordable option, hand pushed lawn mowers are a great option. The market is full of many options, all of which are ideal for various gardens.
To ensure you make the best choice, here is an overview of some of the best hand push manual lawn mowers available to purchase today.
VonHaus Manual Lawn Mower Review – Our Number 1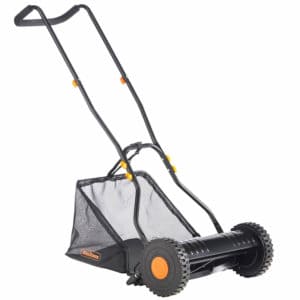 The VonHaus (learn more here!) mower offers an all-round solid design, with plenty of practical features that make it a joy to use. It's solid, yet lightweight and comes with many numerous benefits, including:
At 7.1kg, this is a very lightweight design and this is noticeable the moment you start to use it.
Despite being lightweight and hand pushed, the storage capacity is impressive. The storage bag can hold up to 23 litres of cuttings and is easy to remove and empty when it is required.
The 40cm cutting width is an ideal size, allowing you to mow big lawns without exerting too much energy in doing so.
You can also adjust the cutting height, ranging from 15 to 35mm.
All in all, this mower can be used by anyone, thanks to its lightweight design. It also has a decent sized blade, some great adjustment heights and a large bag for storing all of your cuttings – what more could you need from a manual mower?
Summary
Features: 23 Litre Storage And Collection – 40cm Cutting Width – 53.66 x 131.1cm – 7.1kg
Pricing: Affordable
[amazon_link asins='B00SBN1A9S,B00GV93K3S,B00KFFJ362,B00HEF4XXO,B01F4SYJZY,B00AC4G83M' template='ProductCarousel' store='thebestmowers-21′ marketplace='UK' link_id='4ae5c9bd-d71f-11e6-bcb7-4fbbd23fecce']
Einhell BG-HM Review – Number 2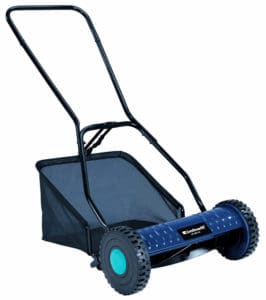 The Einhell BG-HM 40 is a manual lawn mower that's well suited to various gardens and landscapes, thanks to its big wheels and robust design. Here's a run-down of its more unique properties:
At 9kg, this device is a little heavier, but this reflects the more sturdy and robust design.
The big wheels, specifically, are a nice touch and offer extra support on uneven terrain.
Similarly, with a 23 litre storage bag, this is a very impressive model from a practical point of view. It doesn't need emptying too often and the bag never weights down the mower too much.
With a cutting width of 40cm, you can easily push through large strips of lawn with ease, helping to conserve energy when dealing with larger gardens.
The adjustable height can be set at 4 different levels for plenty of customisation.
With a size of 58 x 24 x 35cm, this is a compact design that is easy to store away when not in use.
Considering its size and light weight, it's surprising how much the Einhell mower can offer. With plenty of features, such as a large blade and 4 levels of height, this is perfectly satisfactory mower.
Summary
Features: 23 Litre Storage And Collection – 40cm Cutting Width – 58 x 24 x 35cm – 9kg
Pricing: Affordable
Bosch AHM 38 G Review – Number 3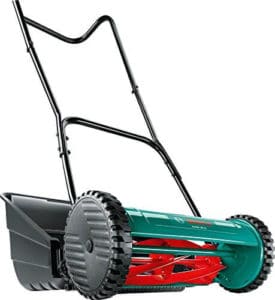 The Bosch AHM 38 G is a manual lawn mower that offers a little extra quality and luxury in its construction. Here's a look at what it has to offer:
This is a very strong and durable design, complete with big wheels and a storage bin, rather than a bag. Yet, despite this, it still only weights 10kg.
The storage compartment itself can hold up to 25 litres of cuttings. This is enough for any small garden and it also ensures larger gardens don't require too many stops to empty the tub.
Likewise, the 38 cm cutting width allows you to cut most lawns with ease. Some gardeners may prefer the smaller size, as it makes the Bosch mower more agile.
In terms of size, this is another mower that is easy to store and use, with a size of just 53.5 x 48.5 x 38cm.
It also has adjustable height settings, ranging from 15 to 43mm.
From its large, chunky wheels to its solid storage compartment, the Bosch AHM 38 G brings many of the comforts from traditional lawn mowers and integrates them well with the manual design. Yet it still only weights 10kg, so its never a strain to operate.
Summary
Features: 25 Litre Storage And Collection – 38cm Cutting Width – 53.5 x 48.5 x 38cm – 10kg
Pricing: Affordable
Verdict
The competition for hand pushed, manual lawn mowers is strong, but the VonHaus 40cm Manual Cylinder Garden Lawn Mower simply beats the competition. Despite being a lightweight design, the VonHause is a strong contender and gets to work on a variety of lawns with relative ease.