Edging Your Garden To a Beautiful Finish
Garden border edging can make such a huge difference to your garden. You can use a huge variety of materials, designs and heights. Edging isn't completely necessary for a planting area, but a border can be functional and add some creativity to your landscaping.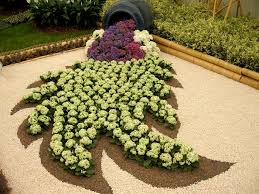 Border edging is mainly there to separate and define the gardening space from the rest of the garden. You can install it prior to creating the garden space, to mark off where you want the planted area to be, or you can install it after to add definition to the space you've already made. Different edging material can create distinct areas marked off in the landscape which divides up the space nicely.
Edging can also keep the rest of your garden tidier, it means all of the plant bed components stay where they're supposed to be! No more soil being kicked onto the path! It also can prevent plant roots from growing outside the bed, and grass from creeping into the bed. This ultimately keeps all the plants healthy and looking as nice as they can in the gardening bed.

It is also pretty effective in making your life a little bit easier. A border along a bed can mean that you don't need to spend as much time when you're weeding and lawn mowing. The edging not only protects your plants when you lawn mow, but it makes it easier when you're weeding as well. Another benefit is that irrigation and fertilisation is much easier because its separates from the rest of the lawn.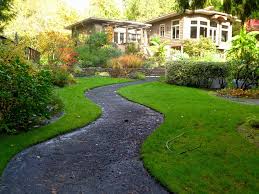 A bed border can really neaten up the lines of the garden. It can make your garden look much tidier and cleaner and ultimately more aesthetically pleasing. There are so many different designs out there, you can really get creative with materials and shapes, so you can add your own style to your garden.




With a little bit of imagination, creativity and a few essential garden tools, you can create some amazing garden border edges. So have a read through and see what works for you, maybe you'll even be inspired, and think of something else!
Brick
Brick is a pretty traditional edging option, i've seen it used often, and effectively in so many gardens! For me I love a brick border cause it gives the up-cycled feel. And the bright orange colour is lovely against the green of a garden. It is super weather resistant and has a timeless look. Most people have a bunch of bricks lying around, and if you don't, a neighbour probably will, and they can always be bought from any builders merchant. The work is pretty minimal as the weight of the bricks mean you can literally just lay them down.
Cinder Blocks
I particularly love this idea because its super thrifty. It has two purposes! Not only does it provide a perfect structure for edging, but the large holes make excellent planters. This gives a little bit more dimension to the garden bed and means you can have so much variety of potted plants all around the border!
Stones
Stones are quite a classic edging idea, that is super effective and has been used by many. But where you can add in your own personality and style is choosing the colour and shape of the stones. You can have them all uniform and neat, or go a bit wacky and make a pattern with them. They are very easily bought or found, just be prepared to have a bit of strength and energy when you're carrying and setting the stones into place.




Logs
Similar to stone edging, log edging is also a really popular choice, one long branch of a log can be cut into loads of uniform pieces to make your border. You can opt for different varieties of logs to achieve different textures and colours. Laid down horizontally can give you quite a shallow border edge, but looks very nice, or lined up vertically gives a very uniform look, almost like soldiers stood in formation! I like the logs because of the natural look of the logs, it doesn't disturb the overall feel of a garden with man-made materials.
Woven Wood
Woven garden edging is a little time consuming, but the final result is just beautiful! It is a bit of a project as finding the right wood pieces and weaving the wood together can be time consuming, but it gives the garden a really rustic and natural look. You can use false tree branches, or purchase long piece of branches at a garden centre.
Timber
I love the look a timber edge gives a garden. Theres something really modern about it. And it works really well if you're trying to make a raised bed. Raised beds can make a garden look so nice and a little bit different as well.




Bottles
So we're getting into the slightly more wacky side of things here, but I hope it might inspire you to think of some of your own crazy and cool ideas to make a garden border edge. it can be almost cost free if you recycle. I love the shiny glass that really catches the light when the sun shines. you simply bury the bottles however you please along the border you want, and voila! You can also use clear bottles which are really pretty or blue bottles. So if you like this idea, you better drink up!
So these are just a few ideas you can use to frame your beds nicely. Thats not to say you have to use our ideas! Why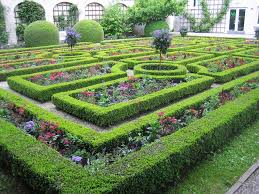 don't you think of something yourself too! I've seen garden border edges made out of absolutely crazy things, for example a colourful row of bowling balls, old car tyres, lovely white crockery and china plates. The options are endless! The benefits of border edging are also endless. So what are you waiting for? Go for a rummage and see what you can find and start  getting your garden beds in tip top shape!