Product
Top Rated
Great Value
Top Rated
Product
Product
Great Value
Product
[insert_php] echo do_shortcode('[product_list cat="cordless3″]' );
[/insert_php]
Cordless Electric Lawn Mowers – The Best Options
Benefits Of A Cordless Mower
The first obvious major benefit of having a cordless mower is the fact that you can mow your lawn freely without the constraints of a cable trailing behind you.
If you mow your lawn regularly then you'll know that you have to put in more energy and effort because the cable follows you around the lawn.
If your lawn mowers' cord isn't long enough then you'll need an extension lead to reach the far end of your garden. This task is made further difficult if you are using an extension lead. Now you not only have the lawn mower cable but also you have the extension lead and the hub for that following you.
Petrol lawn mowers are very powerful mowers when it comes to mowing your lawn. While being powerful, they are also cordless and offer a great advantage of freeing up your lawn mowing route.
For small to medium sized gardens, however, a petrol mower maybe too much. Remember, with petrol mowers you have more maintainence than electric mowers. Also they are substantially heavier than electric mowers and cost more to run.
[amazon_link asins='B00SBN1A9S,B00GV93K3S,B00KFFJ362,B00HEF4XXO,B01F4SYJZY,B00AC4G83M' template='ProductCarousel' store='thebestmowers-21′ marketplace='UK' link_id='4ae5c9bd-d71f-11e6-bcb7-4fbbd23fecce']
The perfect mower for a small to medium sized garden is a cordless electric mower, or a battery powered mower.
Battery powered mowers also offer the freedom of a cordless lawn mower. The main advantages of a battery powered lawn mower are;
Much lighter. Because of the lack of the petrol engine, this makes the battery powered mower much lighter making the mowing of the lawn easier and effortless
Less maintenance. Cordless electric mowers require much looking after than their petrol counterparts. Yes they still need cleaning but there is less to clean making it quicker
Cheaper to run. Electricity is cheaper than petrol. Charge the battery and you're ready to go!
No smell – with petrol mowers, you would get the petrol "burning" smell
Less noise – electric mowers are noticeably quieter than petrol mowers
No cable to ruin flower beds and other garden objects
Top 3 Battery Powered Cordless Lawn Mowers
Number 1. Bosch Rotak 37 LI Ergoflex
The best cordless mower in our range The Rotak 37 Ergoflex by Bosch (learn more here!) is an absolutely amazing mower in my opinion because of the fact that it has power, comfort and functionality all rolled in one. Here are the top reasons to why The Rotak 37 Ergoflex made number one;
37cm cutting width – so less effort from you, mow the lawn with less lengths!
The 36 volt Lithium Ion batter powers The Rotak 37 and being an LI battery, the life of the battery itself will last a long time. Another point to note with a battery of this quality is the fact that it doesnt need to be discharged before charging and it will still hold its life
Mow your lawn in one of 10 positions from 20cm – 70cm, you pick the best position for you
Efficient Energy Management in The Rotak 37 Ergoflex ensures a longer run time by upto 20%
Grass combs – the grass combs allow mowing right up to the edge close to walls and even over the edge near flower beds so you will not have to worry about uncut patches of grass left on the sides for which you will then need to use another edge trimmer to tidy. The Rotak 37 Ergoflex will complete the job for you!
Lightweight – for a mower with such power, Bosch have certainly giving us a manageable weight of 13.7kg
Large 40 litre grass box so you will be emptying less frequently and keep the garden tidy
Fold away storage
37cm cutting width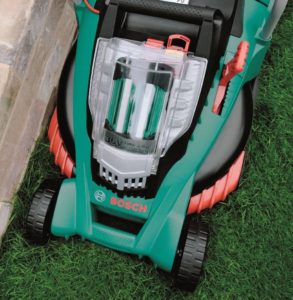 Verdict
A wide cutting width, large grass box for clippings, light weight, 10 variable cutting heights and powerful all make The Rotak 37 Ergoflex number one. The battery life is perfect and more than adequate for your average sized UK gardens. While being extremely functional, The Rotak 37 Ergoflex is also very comfortable with the Ergoflex system and feels natural when handling it.
Number 2. Bosch Rotak 32 LI Ergoflex
Bosch are know for producing high quality hardware and their lawn mowers are no exception to this. On this post, the top two mowers are manufactured by Bosch and here's why The Rotak 32 LI Ergoflex is number two;
The powerful 36 volt Lithium-Ion battery ensures optimum power, maintaining the battery's life.
Lightweight – the lightest weight lawnmower from Bosch amongst both the corded and cordless mowers
Efficient Energy Management – increases the run time of The Rotak 32 LI Ergoflex by upto 20%.
Edge To Edge Mowing – with inset front wheels and its grass combs, The Rotak 32 LI Ergoflex can cut grass on the edges or over the edges so that you are not left with a stripe or patch of uncut grass near flower bends or against a fence
Ergoflex System For Comfort – The Ergoflex is inspired by console handsets aiming for optimum effectiveness while being comfortable and contouring to the hands natural positions. With the adjustable handles, you can have the mower completely suited to your height and comfort level
Variable height of cut – easily adjust the height you want the grass to be from 30mm – 70mm in length.
Stripe Effect – Get the stripe effect on your lawn as a finishing touch with the in-built rear roller which is also very effective at providing additional stability over lawn edges
Fold-away storage
32cm cutting width
9.9kg in weight
31 litre grass box
Verdict
A light yet very powerful mower, The Rotak 32 LI Ergoflex is number two because of its ease of use, The Ergoflex systems proves to make for a comfortable and even an enjoyable experience when mowing the lawn.
Number 3. Evopower EVO1536Li
The EVO1536Li by Evopower is the third in the top three cordless lawn mowers but is still a very good option.  Its cordless, powerful and lightweight so easy to manoeuvre. Here are some reasons to consider The EVO1536Li;
A wide 38cm cutting width
6 variable cutting widths which are easy to set using the handle
40 litre grass clippings container included
Option for mulching
16kg in weight
Fold away storage
Another good cordless mower, The EVO1536Li has the widest cutting width of the three reviewed here but falls short in weight and comfort. The other point worth noting is the option to mulch, which the two Bosch models does not have. But unfortunately, that was not enough to make up for the comfort and the extra weight with The EVO1536Li.
Quick Links