Product
Top Rated
Great Value
Engine Type
4 stroke McCulloch recoil start engine
Top Rated
Product
Product
Great Value
Product
Engine Type
4 stroke McCulloch recoil start engine
[product_list cat="Best Cheapest Self Propelled Petrol Lawn Mowers"]
Top 3 Cheapest Self Propelled Lawn Mowers
Lawn mowers are a pretty essential part of any gardeners life. If you have a lawn, you're going to need a lawnmower. There are so many types of lawn mower out there that its really hard to know what to go for. There are many factors that you should think about when you're buying a lawnmower, for example, self-propelled or hovering, petrol or electric? It really depends on how much you're looking to spend and how much you love your lawn!
A self propelled lawnmower like the ones were going to look at today are really cool. They are going to end up saving you a lot of time and energy. It makes it much easier to cut through thick grass with a self propelled mower because the mower mechanically moves forward through tough patches.
So if you want to take a little effort out of your lawn mowing, then you might want to consider self propelled. I always saw neighbours with petrol mowers and thought gosh, they must be really serious about their lawn, forking out for a petrol mower, but realised that there are some pretty decently priced ones out there.
The advantages of purchasing a petrol lawn mower are also extensive, apart from being cheaper and lighter, electric mowers don't really compare against petrol mowers. You don't need a cable so can travel much further unrestricted.
They are much more powerful than electric mowers, meaning your grass won't get shredded up when not being cut properly. More power means the job will get done quicker. The parts tend to be a lot more durable meaning they will last longer before breaking. If you take good care of a petrol mower, it could literally last you forever. So a little more investment at the start, could save you a lot of money in the long run.
We're going to take a look at 3 of the cheapest self propelled petrol lawnmowers and see which one comes out on top in the test of Sunday afternoon. Lawn mowing time….
Hyundai 139cc Self-Propelled Rotary Petrol Lawn Mower Review – Our Number 1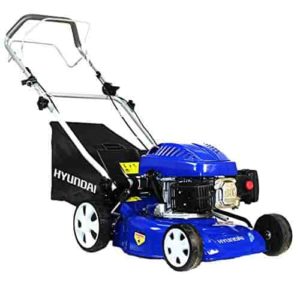 So first up, we have the Hyundai (view on Amazon). Nice looking shiny blue little lawnmower. Its a pretty powerful little machine with 139cc, and its self propelled so really slices straight through any tough patches with ease. This model is the self-propelled version of the classic HYM43P, making an already easy to use lawn mower even more convenient. It pushes itself through weeds and twiny grass really easily.
The height adjuster has 6 different stages, so you can easily change it to meet whatever needs. This is also good for cutting over grown lawns at the highest setting, then you can reduce it to get the desired lawn length.
The collection bag is really spacious, measuring an impressive 55 litres, so you can conveniently collect and dispose of your cuttings. And the capacity means you don't have to constantly empty it. It is polyester so super light weight, and isn't adding any unnecessary weight onto the mower.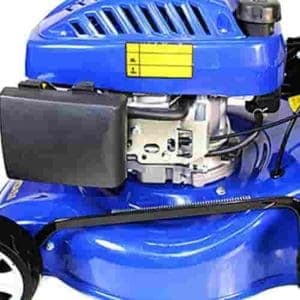 The handle has a really nice soft grip, meaning you're not going to get sore blistery hands when you are mowing the lawn. I usually wear gloves so avoid getting sore hands, but this handle is so soft I didn't need to.
The cutting width is really wide aswell. At 410mm, its ideal for bigger lawns. I found that I was really cutting my mowing time a lot due to the bigger cutting width.
Self-propelled – its so easy to use, barely requires any man power at all, just steering!
Six staged height adjuster – so you can adjust the cutting height to whatever suits you
55 Litre polyester grass catcher – so you can catch your clippings and empty the bag easily
Soft grip handle – for the ultimately comfortable cutting experience
410mm cutting width – ideal for bigger lawns
Hyundai 3 year warranty included – so you can trust in this product
Overall this was a fantastic lawn mower and wasn't too expensive compared to some other products in the market. At 30kg it is quite heavy, but it has the power to cut amazingly and push its self, and with the wheels, you're not going to be carrying it much at all. I found it made light work of my lawn, and it was pretty easy to assemble. I found that this mower had all the features I needed, without too many fancy frills, so kept it in a good price range. A great mower all in all!
Summary:
Features: Self-propelled – Six stage cutting height adjuster – 55 Litre grass catcher – Soft grip handle – 410mm cutting width – 3 year warranty
Price: Low range
McCulloch M46-110R Classic Petrol Rotary Lawnmower Review – Number 2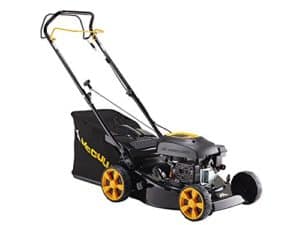 Now this mower, a little more expensive than the Hyundai, looks really great. The black and yellow style really appeals to me! I tried it out at home and initially I was very impressed by the power.
Its self-propelled so doesn't require much effort to push along at all, and makes my chore of mowing the lawn a little bit easier. It has a 4 stroke McCulloch recoil start engine, and it really feels amazing to use.
The cutting width is really wide at 46cm, so you can cover as much of your lawn as possible in less time! The deck is made from stainless steel so it is on the heavy side, but the self-propelled power and strong wheels mean you will hardly feel its weight.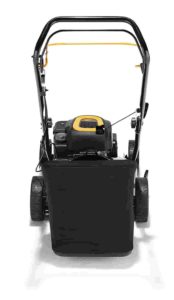 It has height adjusters with 6 different settings, so you can cut your lawn to whatever height you like, between 30 and 80mm and it looks really lovely and uniform, so if you are a bit of a lawn perfectionst, this mower will do you well here.
The grass collector has a good capacity of 50 litres, to make collection and composting nice and easy! The handles easily fold away to make this super easy to store, and saving you space in your shed too.
Gas powered 110r engine – for really great power and ease of cutting
Recoil start
Cutting width – 46cm, so you can cover more of your lawn and get things done quickly
6 different height settings – so you can adjust the height to however you want your lawn to be
50 litre grass collector – so you can easily collect your grass clippings and don't have to empty the spacious bag too often
Overall I really likes this mower. The wider cutting width meant  I was able to cut my lawn very efficiently, and it had the power behind it to make it pretty easy work. I would definitely recommend this mower, as it is a pretty low price for a petrol mower, but functions excellently. It was really easy to set up and also starts easily. I wasn't looking for something that would be fit for a bowling green, but something that would do my garden nicely. It cuts really nicely, with a clean sharp blade, and I really believe this mower is going to last us a long time!
Summary:
Features: Gas powered engine – Recoil start – 6 adjustable cutting heights – Cutting width of 46cm – 50 litre grass collector
Price – Low range
Einhell GC-PM 46 Self Propelled Petrol Lawnmower Review – Number 3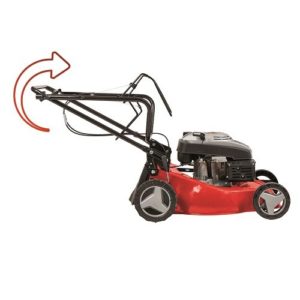 Onto the last nifty little lawnmower. I say nifty but actually they do pack a punch! I'm loving the sleek red colour. It feels a bit like a little sports car has just been delivered to my house. This was actually the cheapest out of the three, but I was excited to give it a try.
From first impressions, its pretty easy and straight forward to assemble. It feels robust which is great. A lot of lawnmowers tend to be aiming for "lightweight" now, but they can end up feeling pretty flimsy. The air cooled four stroke engine is great, it generates a high torque, and the rear wheel drive means it moves forward really smoothly.
The cutting width is a very nice and wide 46cm, the same as the McCullock. Although I noticed this one was a little tighter round corners and round beds.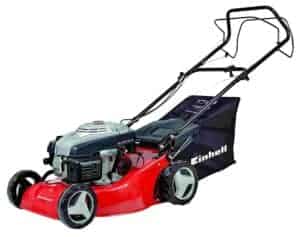 This particular mower has an amazing 9 height adjustment settings! Which is really quite impressive, so any perfectionist can have the lawn at exactly the height they like! You could literally get a ruler and measure the exact millimetre of grass height.
The grass catching bag again is a spacious 50 Litres which is fantastic, minimises the times you have to run back and forth to empty and attach. It picks up grass really well and is very easy to empty and refit the collection bag.
Four stroke, air cooled engine 139cc – for really great self-propelled power
3 Litre fuel tank
Cutting width 46cm – for excellent coverage
Cutting height – 9 adjustable settings from 30mm – 80mm
50L grass catching bag – spacious grass catcher so you can easily collect the cutting and don't have to constantly empty the bag
Overall this is a pretty great little lawnmower. At an excellent price, I think it performed really well. It was fairly easy to put together with a little background knowledge, but I would recommend doing a little research to make sure you get it right. I was really impressed with how well it did in the real test of mowing the lawn. I felt the lawn was cut really nicely it looked vibrant and uniform afterwards which is exactly what you want!
Summary:
Features: Four stroke, air cooled engine – 1.3 Litre fuel tank – 46cm cutting width – 9 height adjustment settings – 50 Litres catching bag
Price – Affordable
Verdict
For me, the best mower in terms of price and features, is going to be the Einhell. Simply because at the lowest price out of the three mowers, I felt that this one performed just as well as the others, or even better. Although I can't really fault the other two, I just really loved how this one felt, and in terms of value for money this one has to be the best.
It has the widest range of height cutting adjustments, so I could be super precise in my grass height. The Einhell doesn't compromise on quality, where the price is lower. So this is definitely my favourite! If you're looking for a new nifty lawnmower, then this one could be the one for you!